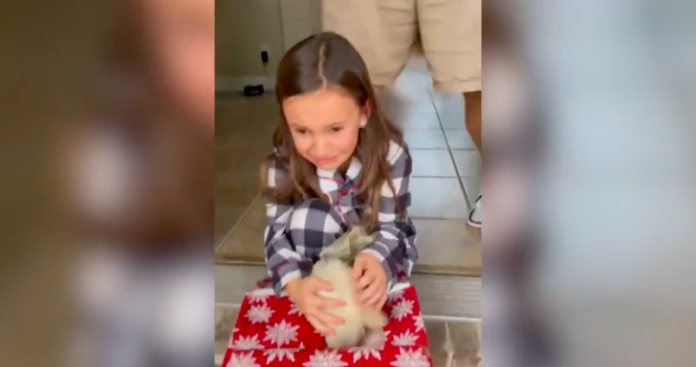 Have you ever wanted something for Christmas so bad that that is all you thought about? Well, that is exactly how Claire Hammer, a 7 year old girl from Texas, felt about wanting a dog. For years, Claire was hoping and wishing for a dog for christmas. But unfortunately her wish could not come true because both Claire's mother and Claire have fur allergies and could not get a dog because of that.
Claire never thought she would ever get a dog because of her fur allergie. But to her surprise, her mother, whose name is Janee Hammer, researched and found out that Goldendoodles are hypoallergenic. A hypoallergenic dog is one that does not shed its fur so it is less likely to cause an allergic reaction. In other words, this means that it is safe for someone with a fur allergy to own.
So you can only imagine what her reaction was when she opened the box and a dog popped out. Mr and Mrs. Hammer bought and picked up the puppy on december 17 of 2021. They could not keep the adorable secret for long as they quickly got Claire's brother, Ben Willett, to put the puppy in a box and ring the doorbell.
As soon as Clair opened the door she was surprised that there was even a present for her days before Christmas was even happening. She opened the door and immediately bursted into tears. These were tears of joy as she was opening the box to find a puppy. While petting the puppy in the box, her mother asked her if the puppy was cute. Claire was so overwhelmed by the surprise that she could not get an answer out of her mouth. Her mother then told Claire that she can pick the dog up and right away she held the dog. Her mother then asked if she loved the dog and she said yes. Claire's mother stated, "She Has Been Asking For A Puppy For As Long As I Can Remember. She Absolutely Loves Dogs."
Claire named her, now 3 month old, dog Nola Rose. I bet that Nola Rose will be her favorite present for a long time.