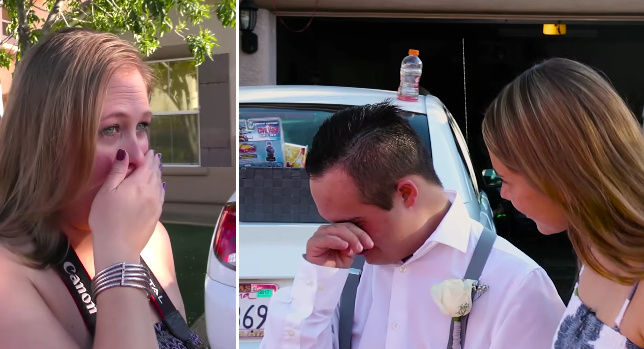 Most people look forward to a high school dance. Some people, like myself, appreciate the ask more than the actual dance. Knowing someone actually said yes to you does wonders for your self-esteem.
But for 17-year-old Daniel, he didn't get that yes he was hoping to receive. In fact, he was turned down by several girls. The reason? He has Down syndrome.
But just as he began to give up hope, 10th grader Kylie asked Daniel for the honor of taking him to the dance. Kylie sees Daniel as Daniel and nothing less. "I don't think of kids that have a disability… I don't think of them as being different," she said. "I hope I can make his night fun."
Kylie's actions left Daniel's mom, Tonya, jaw dropped. Asking Daniel out of sympathy is one thing, but Kylie is actually encouraging and joyful about the whole event. "It's not about that Daniel has a disability. Its Kylie didn't see any disability. That is what your heart wants as a mom."
The entire ordeal exploded when FOX5 Surprise Squad caught wind of Kylie's act of kindness. Just before the dance, Fox5 showed up with a night FULL of surprises, most of which left Tonya in happy tears. The night began with the couple being driven in a beautiful Rolls Royce and went out to be majestic.
Check out the video below to see all the other incredible things they were able to do and please SHARE this uplifting story with your friends and family!