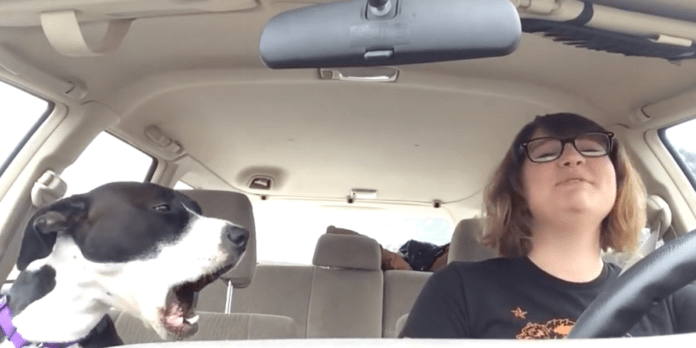 Everyone has that one favorite song they love to sing. Same goes for rescue dog Honey and her owner Melissa. The king of pop, Michael Jackson is loved by all. Children, adults, elderly and now even dogs share the love for his music.

One day they were driving through a city in Humboldt County and it was quiet until Melissa played the famous hit, Michael Jackson's 'Will You Be There'.
Melissa loves her fur babies' reaction to the song and she couldn't help but laugh and sing along.
There are countless videos on the internet of dogs doing so many different goofy things but this video is like none I've ever seen before.
Honey gave it her all. She left her heart in her performance and was loud enough for everyone to hear, even the car next to her.
If the video didn't make it obvious, Michael Jackson is definitely one of Honey's favorite musical artists. I can't imagine what would happen if you played another one of his songs.
The way she howled to the beat of the music is truly amazing and nothing could hold her back from singing at the top of her lungs.
While this was all happening Melissa couldn't hold back her laughter when her pup started to sing. This duet is a match made in heaven. GOALS!
If you enjoyed this performance by Honey and her owner, please SHARE this with your friends and family!
Also, watch another video of a mom and dog duet while driving in the car… You won't regret it!
Source: rumble.com