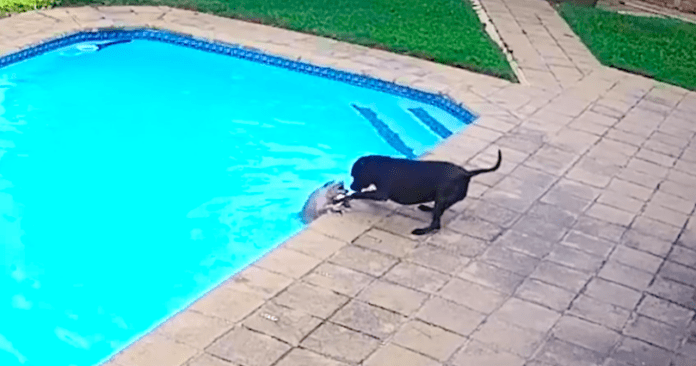 Chucky, a 13-year-old Pomeranian was walking around outside when something caught his eye in the distance. He was so focused on what he saw that he was not paying attention to where he was stepping and slipped into the pool.
Melissa and Byron Thanarayen, the owners of Chucky and their two other dogs, Jessie and Ponco, live in a house with a backyard swimming pool. They have been living there for about 5 years and have never had an issue with the dogs and the swimming pool. "My wife and I were out for an appointment. When we got back, we noticed that Chucky's head was wet. We searched the entire house to check where he could have wet his head, but didn't find anything." They finally went to the security cameras and checked the footage. That is when they found their answer.
Chucky had fallen into the swimming pool. He frantically started paddling his arms and tried to get out but he could not. Every step he took to try to get out of the pool went nowhere. He was trying so hard not to drown but was struggling so much. A few minutes later, Chucky's friend heard the commotion and came to the rescue. The help came from Jessie, a 7-year-old rescued black Staffordshire. She rushed to the side of the pool where Chucky was and tried her best to save him. At first she was struggling to think of what to do but she soon thought of a solution. She would get him to swim to the edge of the pool and would try to grab on to him with her mouth and pull him outside of the pool. Jessie tried this several times but each time Chucky slipped from her grip. But she never gave up. It wasn't till 34 minutes later that she finally got a good grip on him and pulled him up out of the water.
As hard as it is to watch Chucky struggle to swim and try to keep his head above the water, It is truly astonishing to watch as his friend, Jessie, works to pull him up out of the pool to rescue him. "It was so hard to see Chucky in the pool." "Knowing that he swam for so long was amazing to us and heart-wrenching." The video of the security camera went viral and the Boksburg SPCA, where Melissa and Byron adopted Jessie, gave her an Animal Hero Award.
"Jessie is our little hero! We adopted her from the Boksburg SPCA five years ago. It's so amazing that she went from being rescued to being the rescuer." Melissa and Byron say that the dogs are now doing great. Jessie had an amazing rescue and thanks to her, her little friend Chucky is happily playing and running around today!