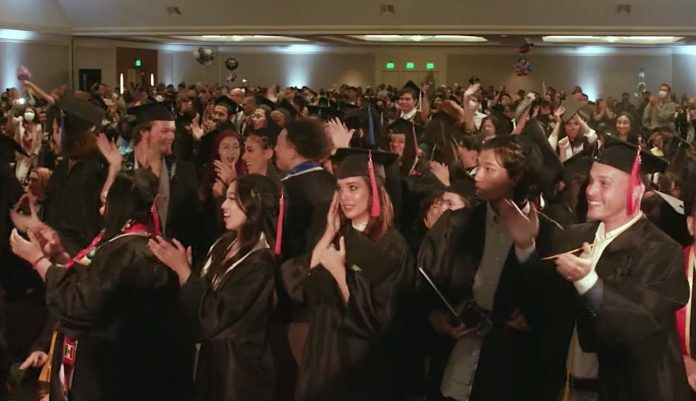 Graduating seniors at a LA arts high school were overjoyed when they learned they would be receiving more than just a diploma as they prepared to walk in cap and gown.
The entire student loan debt of Otis College of Art and Design's 284-strong Class of 2022 would be paid off by the college's most successful alumni, Snapchat co-founder Evan Spiegel.
Spiegel's donation was supplemented by Kora Beauty founder Miranda Kerr, Spiegel's wife and partner in the Spiegel Family Fund, totaling an undisclosed, record-breaking gift of more than $10 million.
"It changed my life and made me feel at home," Spiegel, who attended Otis during the summers while in high school, told the graduating class. "I felt pushed and challenged to grow surrounded by super talented artists and designers, and we were all in it together."
Tuition costs have far outpaced any other metric of inflation since the federal government decided to begin guaranteeing student loans in 1965, and universities realized that it wasn't an unemployed teenager paying for their education, but the entire United States taxpayer base.
A liberal arts degree at Otis can cost $50,000, but some of the recipients of Spiegel's generosity had racked up $70,000 or more. With less-than-obvious career paths and the pandemic's lingering employment difficulties, some seniors expressed relief.
"Student debt weighs heavily on our diverse and talented graduates," President of Otis College of Art and Design, Charles Hirschhorn said. "We hope this donation will provide much-deserved relief and empower them to pursue their aspirations and careers, pay this generosity forward, and become the next leaders of our community."
"My mom was crying," graduate Farhan Fallahifiroozi stated. "They were so worried about it for me. I had so much debt. If it's really all gone, it puts me so much ahead."