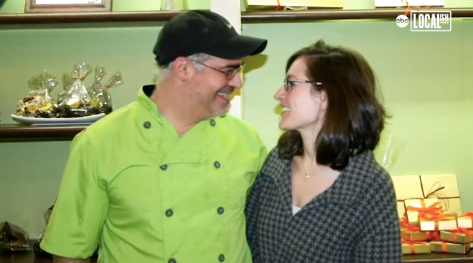 Mark Libertini, co-owner of Aigner Chocolates in Queens, did not meet his co-owner and now wife through the chocolate shop. The couple actually met in Mark's old tapas restaurant. Rachel Kellner, his now wife, was a regular and one time she even brought a date with her to the restaurant. How ironic is that? Mark stated, "She came in by herself one time and we were talking and she had this idea of 'food is therapy.'" They got to talking and Mark made his move.
The next day he texted her to ask more about her idea. She was thrilled to hear from him. She said, "I'll never forget that text message coming through," Kellner says. "It was this big, crazy idea, and here's this person who I just met and he believed in me. That was the moment I fell in love with him even though I just met him."
The next few weeks the couple talked about random stuff to get to know each other and started dating. They then moved to Queens. A while later Mark was walking down the street and went to the chocolate shop to buy chocolate for Rachel. He was sad to see that the shop went out of business but he found a phone number pasted on the door and called the number.
Rachel said, "It was always his dream to open a chocolate shop. And if you know my husband, you know that not only did he call right away, he met them that day." A few weeks later they signed the contract and started rebuilding the shop to become the shop of their dreams. They started baking inventory and were open in time for the Halloween of 2015.
After a few weeks of being open, the community embraced tem. "Our vision is to share our love for the art of making chocolate to make the world a better place, and we created that vision statement seven years ago, not knowing what the last two years were going to bring," said Kellner. The last two years were tough on everybody, especially hospitals. The couple knew this so they wanted to do anything to help.
They ended up with an idea for kids to draw rainbows on a piece of paper with a hopeful message on it for the frontline workers. For the people that drew the rainbows, they would get a free chocolate bunny pop. Their goal was to get 100 kids to draw these pictures for the front line workers during the pandemic and they got 315! They continued this and got 1,500 pictures the next time they did it. Rachel said, "After we delivered them, they made a collage. There is a rainbow of rainbows in the lobby of Elmhurst hospital. It really was our proudest moment."
'Food is therapy', was the idea of his wife, Rachel Kellner and it sure is the truth. Through the chocolate shop, they help many front line workers through the pandemic with hopeful and grateful messages from a bunch of kids. "We need to stop and kind of remind ourselves that this chocolate shop is a love story, and our dreams have come true," said Rachel. Since the shop, the couple have gotten married, had a few kids, and spread more love everyday through the shop.