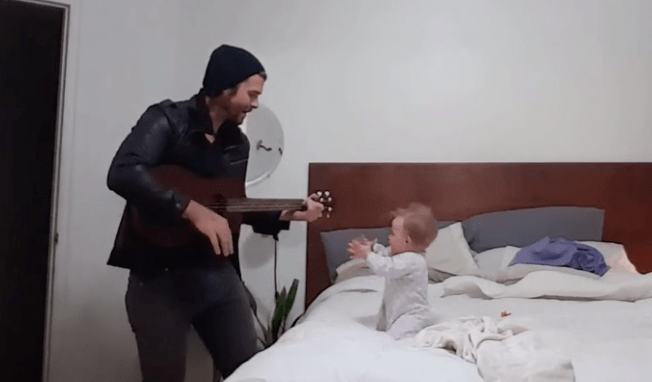 Everybody loves music. Maybe your favorite artist is Elvis Presley, Whitney Houston, Ed Sheeran, or Stevie Wonder. Well, this adorable baby's favorite artist is her dad. Babies love music, but not just any music. They love music that has a fast tempo that matches their heart rate.
Babies have a much faster heart rate than adults. It is actually proven that music has a positive effect on babies. It actually helps their brains develop and it teaches them the sounds and meanings of words. At such a young age, this helps them significantly as they become toddlers.
Watching your child grow up into amazing adults is a blessing but is also very sad. You tend to miss the times when your baby was actually a baby and you got to hold them, feed them, and even change their diaper. The time goes by so fast so you have to cherish it while it lasts. That is exactly what this dad did for his little one.
As a father, you want to cherish any special moment you have with your daughter. This father and his baby girl had amazing bonding time when he brought out the guitar. He came ready to perform.
As soon as he started to play his guitar and sing, his baby girl stood up on her knees and started jamming out. She proceeded to crawl towards her father and bop up and down to the music. She then started clapping her hands and smiling so big. Her father, who was singing, was having a hard time keeping his happiness down and giggled a little bit during his performance.
That is the best show he will ever do and he had the best audience ever. The song he was performing was Bobby Darin's hit song "Dream Lover", from 1959. Everybody from the late 50's and 60's loved that song. And now, it has this baby girl loving it. Watch the baby girl's adorable reaction to her father playing her a song on his guitar.