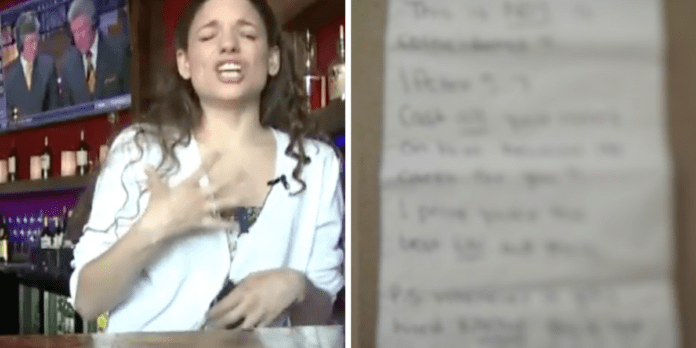 As we all know, most waiters and waitresses in America make most of their living from their tips and their employer makes up the difference. We hear stories all the time about people leaving generous and not so generous tips. This couple went slightly above and beyond for their very kind waitress.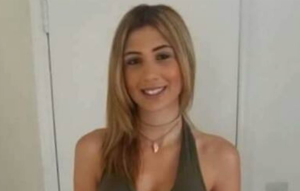 Brianna Siegel has been waitressing at Bar Louie in Woodbridge, New Jersey for only three months but has recently gotten the surprise of a lifetime simply for being a nice human being.
The 21-year-old was going about her day just the same as she always does when a young couple came to her section in the restaurant. After their interactions, Brianna was shocked to see that the couple had left her a $1,200 tip on their small $20 bill.
The couple had been in the restaurant for a few hours under Brianna's service during which she held good conversation with them. Brianna said when the couple was leaving, "They came up and said, 'You were a great waitress and we're giving you this envelope. Don't open it until you get home.' I honestly thought maybe it was a prayer card or a little Bible, so I stuck it in my apron until I got off at 10:30."
Following the simple directions, Siegel didn't open the envelope from the couple until she was home after her shift. When she arrived at her boyfriend's house she was excited to finally see what was inside the envelope. What she saw completely blew her mind.
She opened the envelope to find a large check of $1,200 and a note from the strangers. Brianna described the couple as "the nicest customers I've ever had". She explained that even without their incredibly generous tip, they were still very nice people.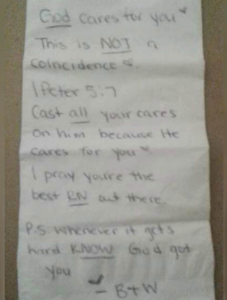 The note inside the envelope reads:
"God cares for you. This is NOT a coincidence. 1 Peter 5:7 'Cast all your cares on Him because He cares for you.' I pray you're the best RN out there. P.S. Whenever it gets hard KNOW God's got you. – B+W"
Brianna says the couple had only ordered two cheeseburgers and accompanying drinks and had asked her about her career path and her religious views. She responded saying she was planning to go to nursing school and was a practicing Catholic.
Even though the couple requested to stay anonymous, Brianna says she wants "everybody to know that there are still really good people out in this world".