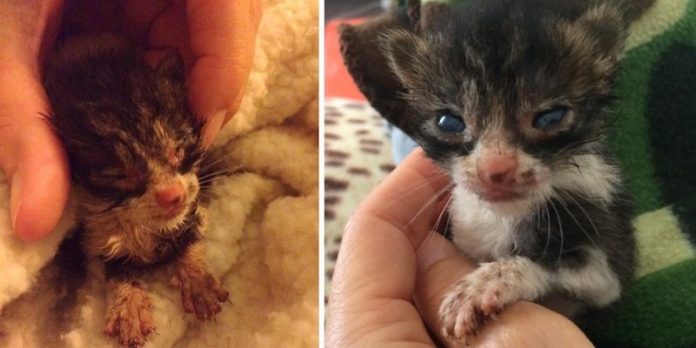 Like many people, Joan Bowell lives in a house. But she doesn't live in an ordinary house. She lives in a house FULL of cats that she has rescued and taken care of. And it was one night, while she was feeding her beloved cats, when she heard the loud piercing cries of what sounded like a kitten in trouble.
She rushed outside, trying to find where these desperate cries were coming from. She ended up in a bamboo grove, where she found 2 little kittens. But was horrified after noticing that the one little kitten, was on the ground dead.
She other kitten was alive, but was obviously in terrible condition. He was covered in mud and muck, crying for help. His eyes were swollen shut by an infection, and the sight of him just broke her heart…and mine!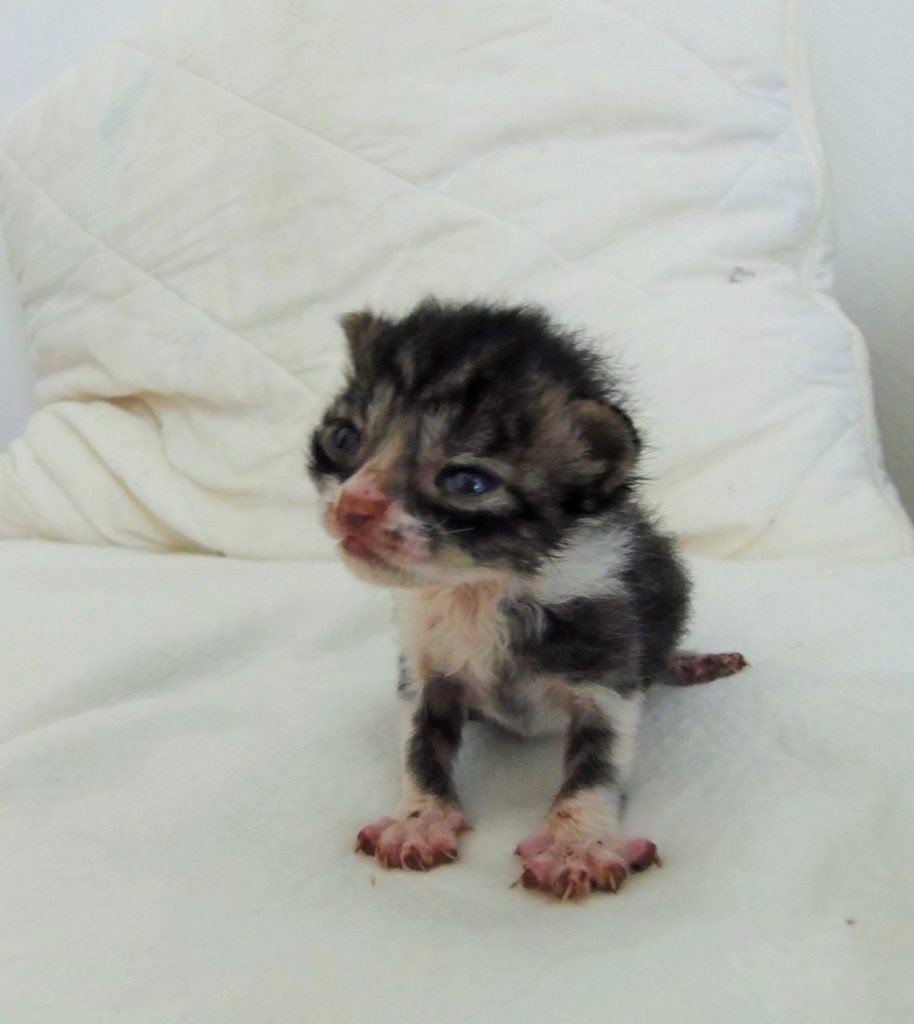 Joan scooped up the young little kitten, and took him back home with her. She carefully began washing him, and then began to try and feed him some cat formula. The only problem was, he was too weak to feed.
At one point, after feeling more secure and feeling like he belonged in his new home, he did his best to open his little eyes. And when he did, they were just full of love for his new mommy.
She didn't give up, and continued to help him regain his strength. She continued to nurse the new kitten, feeding him the cat formula until he was stable and old enough.
Joan then decided it was time for this kitten to be named. And that name is Chili. She said it perfectly describes his passion for life, cuddles, and milk.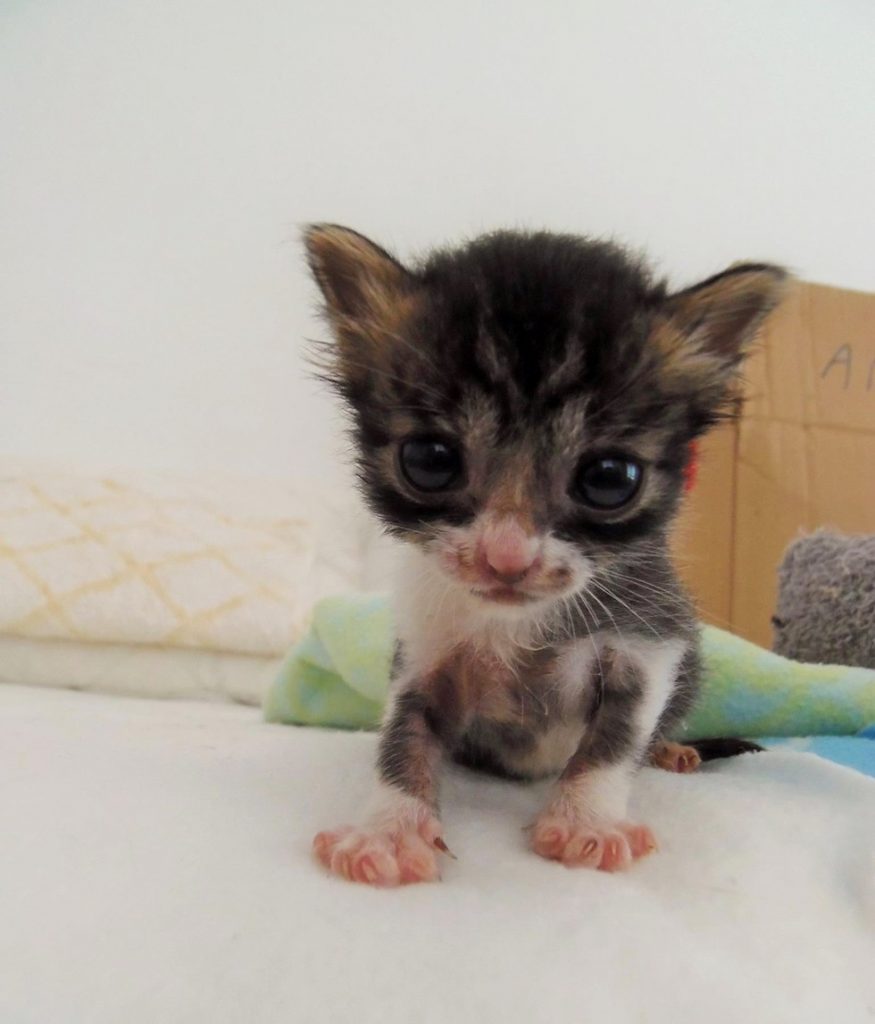 It wasn't long until Chili was then introduced to his two sister cats, who had also been rescued by Joan.
The two sisters offered Chili physical comfort, and were always there for him. The comfort they gave him encouraged Chili,, and even his immune system began to rebound, and he almost seemed back to normal.
"He has a constant need for physical contact and the sisters provide that beautifully…he no longer whimpers when he sleeps. He's a true miracle!" said Bowell.
Chili has now grown in size and weight, and is so full of spirit and fun! He loves cuddling with his new human mom!
"I believe his beautiful little soul has healed from his traumatic start to life but there's no doubt the experience has left an indelible print on his psyche. He's the sweetest little thing on earth and I love being his human mama," said Joan.
He definitely has grown into a wonderful and spirited little kitten, and he is definitely getting to live the good life!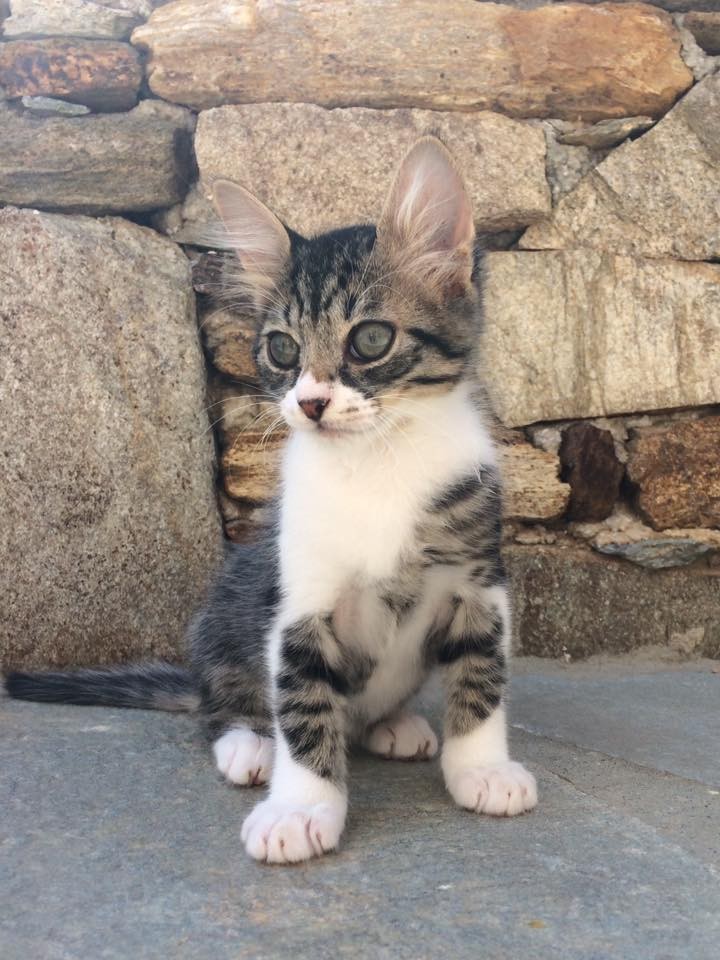 This little kitten went from being traumatized, and scared for his life, to having a new home, and a wonderful and loving family.
This little kitten now has wonderful sisters to play with, and cuddle with, along with his momma. They are just one big, loving and caring family! And we honestly couldn't be happier!
If you are a cat lover, and are thankful that this kitten was rescued, and now has a wonderful new home, SHARE this post with all of your friends!