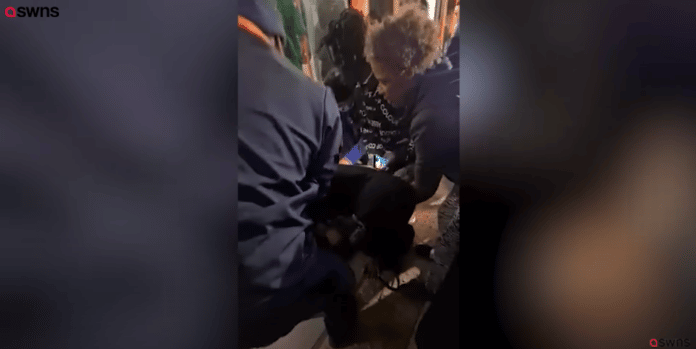 A quick-witted woman noticed a guy slip through the space between the carriage and the platform and managed to stop the train from departing in time to save him.
Following the unusual mishap that caused him to fall and slither through the restricted area onto the tracks, he just escaped being run over by a train.
The woman was only able to save the man when she thankfully noticed him fall and signaled the driver to halt the London Overground train. The victim had to be pulled out from beneath the wheels.
She saw him begin to stumble, then fall and slide onto the track on Tuesday night at approximately 10.45 p.m. at Blackhorse Road station in north London, close to Walthamstow.
Several other passengers were able to haul him back through the opening and onto the platform, saving him.
As he was rescued from underneath a train, the spectacular rescue was caught on camera.
The man was observed being gingerly lowered back onto the platform by a group of surprised passengers and a station employee. The man appeared to be uninjured.
The man was hoisted up and then leaned over one rescuer's arm in the video, seeming confused and frail.
The Unidentified lady who saw the occurrence is alleged to have signaled the driver to stop the train by holding open a door and uttering the word.
She said in the video, "I'm walking and he's stumbling and I'm looking at him and he's gone towards the train and he's just slipped through the gap, and the doors are about to close and I'm shouting, don't drive off."
Another woman in the clip told her, "God bless you, you are the angel sent, trust me. He would've died."
She was also praised by another witness who said, "Miracles do happen every day. This young girl saved a life today. She took a risk in order to save this boy's life."
The reason for the man's fall is unknown, but the wife said "yes" when she was asked if he had fainted.
The incident's aftermath was also seen by Great Nnanna, who recalled: "It was a terrifying time. Everyone was yelling and racing to assist.
"As for the young lady that raised the alarm, she was an angel sent. She was actually the one that saw the young man slip. I'm so glad no life was lost, he was so lucky she was there."
Transport for London (TfL) verified that the train was stopped on the platform so that employees could rescue the passenger.
A staff member volunteered to call an ambulance while also sitting with the customer, who soon exited the station.
However, according to the London Ambulance Service, no paramedics were dispatched to the area.
A spokesman for TfL said, "Staff and nearby customers helped pull a customer to safety, who fell between the platform and train at Blackhorse Road station. This must have been an upsetting incident for everyone involved and we are thankful that the customer was able to leave the station unharmed."
Watch the video here: