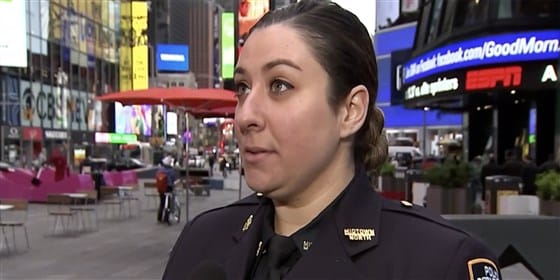 An argument between several men got out of control in Times Square and three innocent bystanders were hit with gunfire. 
One of the injured was four year old Skye Martinez, who was struck in the calf by a stray bullet. 
As bystanders ran from the scene Officer Alyssa Vogel sprung into action cradling Martinez and sprinting her to an ambulance. 
NYPD Deputy Commissioner Jon Miller posted the video saying, that "the dedication of NY's finest knowns no bounds."
Whether they're rushing toward the danger to help save a little girl or rushing home to family after their tour this #MothersDay — the dedication of NY's Finest knows no bounds.
pic.twitter.com/fMM384Mb7O

— Deputy Commissioner John Miller (@NYPDDCPI) May 9, 2021
The NYPD also released video from Vogel's body camera which is just as compelling. 
Four year old Martinez was out toy shopping with her family when the gunfire erupted. 
Officer Vogel sprung into action and wrapped a tourniquet around the girls leg to stop the bleeding and then (as seen in the footage above) sprinted through Times Square to an ambulance. 
"This little girl is the strongest person I have ever seen," Officer Vogel told "Good Morning America."
Vogel said when she arrived on the scene she removed the tourniquet from her gun belt and, "applied it to her leg, above the wound. We tightened it on her."
"After that, Officer Sparta and I started searching her for other gunshot wounds, to make sure that was the only one," Vogel said. "When it was determined that was the only one, I had the instinct to pick her up and run her to the ambulance down that block, and that's when I sprinted with her."
Vogel, who is also a mother said hearing a child had been shot "was definitely more nerve-wracking because you don't know where she was shot, or if it was true if she was OK. I didn't know the circumstances. So as a mom, I think my motherly instincts went to, I need to help her."
The NYPD officers said that Martinez was strong. "For somebody who has just been shot, she was just standing there, obviously scared, but she wasn't crying or anything. She only yelled when we were tightening the tourniquet because that's very painful. But she was very calm for somebody who was in a very traumatic situation."
Skye underwent surgery and is expected to make a full recovery. 
All three people injured in the shooting have been released from the hospital.