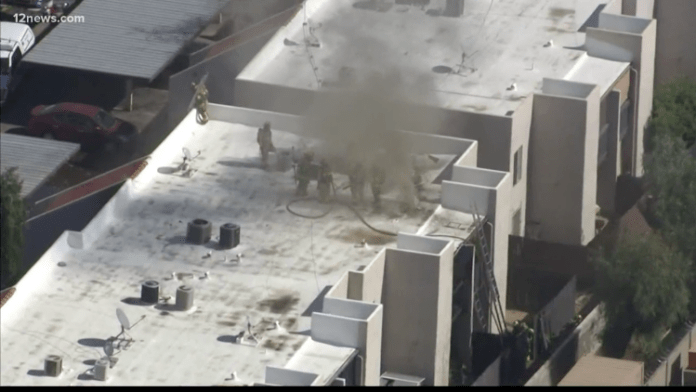 After a fire broke out at a Mesa apartment complex, two kids were hospitalized.
Firefighters saw the flames blazing and directing themselves toward the attic as they were arriving on the scene. There was a tremendous amount of smoke as the firefighters can be seen attacking the fire from the roof.
Police body cam video shows an officer and a good samaritan risk their lives to save a 2-year-old girl. This girl was trapped inside the burning building and the officer is seen jumping through the window and pulling himself inside to make the Daring rescue.
He successfully grabbed the little girl and quickly handed her over to paramedics to get her help.
Jon Forrest with the Mesa Police Department said, "He yelled out and said to me, 'Hey, there's someone else in there.' And I said, 'Can you grab that person and bring that little girl out to safety?' And he did."
That's when the man and another officer went back inside the burning building to help a 6-year-old get to safety.
Forrest said, "There's so much smoke in there that if you pass out, it could be deadly, obviously," Forrest said. "For that civilian to be so courageous, jump up there, he saved two kids' lives today."
The two kids were taken to a hospital and treated for smoke inhalation and broken glass.
All four officers and the good samaritan involved were also treated and released.
Chad Serchen with the Mesa Police Department said, "Hats off to the citizen who was back there. He was at the car wash minding his own business, recognized there was a fire back there, jumped the wall, left the car at the car wash, and really did an outstanding job today and really saved two kids' lives."
The fire had damaged four apartments and no firefighters were hurt.
Mesa Fire and Medical Capt. Chris Yaukus said, "Obviously, it's always emotional when you hear victims, patients being trapped. It kind of increases the stress of the call but we know what we have to work towards, life, safety."