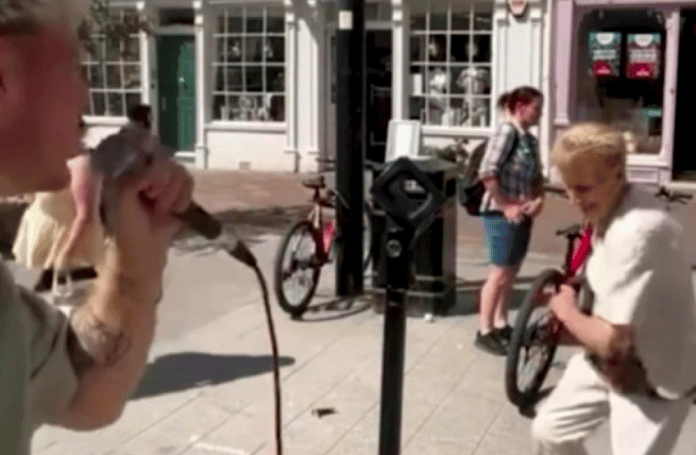 A senior citizen is a social media celebrity thanks to her enthusiastic street dancing.
In Hereford, UK, more than a million people witnessed retired raver Iris swaying to the music of a busker named Jason Allan.
His most touching video depicts the couple getting back together after spending over a year apart because of COVID-19.
In October of last year, Jason, 25, first shared a video of him dancing with Iris.
He posted another video of the pair dancing on the main street last week.
Jason uploaded the video from Shrewsbury to TikTok, where it has now received over 1.4 million views.
He said, "When I was busking, she danced along to my music, then the lockdown happened, so I didn't see her.
"Then, all of a sudden, I was busking Monday, she comes over, starts dancing along, and someone just happened to film it. It was about a year until I filmed the original video with her dancing to Ed Sheeran. She came over, and she put money in my case. And I was like, 'I know where from somewhere,' and then when the video starts, she walks over and says the same. She suddenly realized and said, 'you're not my dance partner, are you?"
"And then there's just this beautiful moment where we both realized we knew we were dancing partners from over a year ago."
Soon, viewers' comments began to pour in, expressing their joy at how pleased the film had made them feel.
Jason has been a full-time busker and musician since he was 16 years old, and his love for singing began when he was in a local choir from the age of eight.
He recalled, "Around the holidays, my cousin and I would sing Christmas carols door-to-door. It felt like the ideal combo since I enjoy fusing my passion for earning money with my love of singing. Most of the time, I went out by myself, saving me from having to divide the cost with my cousin. From then, things sort of went on. I used to sing door to door when I was between the ages of 9 and 12 with a friend from school. His father would take us to the affluent neighborhood. Then, all of a sudden, we started receiving £2 coins and £5 notes. From those things, I was able to spoil my family with new pairs of shoes and all this stuff."
He started busking when he was 16 after getting his first guitar as he grew older and started singing Christmas songs in the community.
He claimed that because he made enough money and was able to quit his job, he has been working on it full-time ever since.
Jason mentioned that he enjoys traveling across the cities and towns of the UK.
He said, "I don't like staying in one place, and I get a bit itchy if I'm in the same place and I don't leave for two weeks."
The singer has performed various headlining performances around the nation with a live band as a result of his videos' rising popularity.
watch this video here: