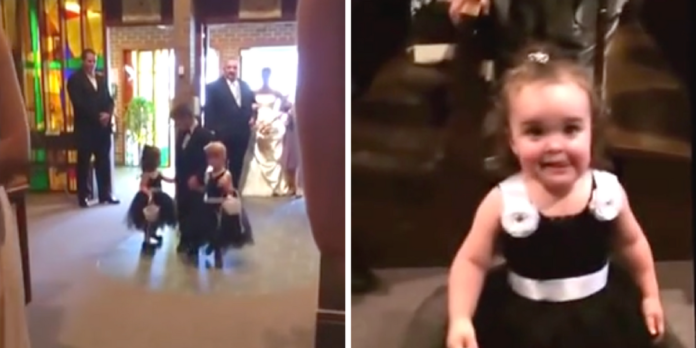 Weddings are exciting for everyone, not just the bride and groom. And what would a wedding be without a cute flower girl who's excited to help people begin their new lives together?
Typically in a wedding, the bride wants things to go just as planned. With a flower girl, you can't really have plans though, especially at such a young age. They have their own minds when it comes to being in a wedding and can easily be distracted.
Some flower girls might be too preoccupied planning their own wedding or admiring the pretty flowers or sparkly dress to focus on their job.
This flower girl is in her glory until she sees her dad as she is walking down the aisle. It's cute how she just doesn't understand how important her job is. The guests couldn't help it, they had to start laughing until the serious business carried on.
Source: rumble.com
Flower Girl's Potty Emergency
Some flower girls might love the flowers too much to throw them on the ground. However, this flower girl is eager to get rid of them to take care of her own personal needs and it is absolutely funny.
"You gotta do what you gotta do".
Source: rumble.com
Adorable Flower Girl's Impressive Speech
Speeches at a wedding are some of the most heartfelt and touching parts of the whole thing. Giving this little girl the microphone was the best thing ever. It would take a lot of time and effort to come up with a speech as great as hers.
Source: rumble.com
If you got a laugh out of these cute little flower girls, please SHARE this with your friends and family!