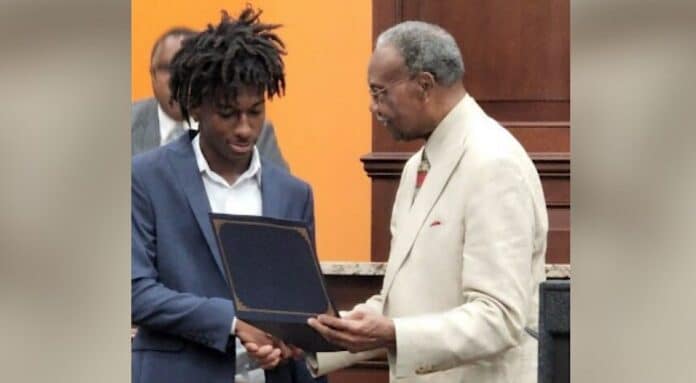 Corion Evans, 16, was in the right location at the right moment when a car carrying three teenage girls crashed into a Mississippi river.
The strong young swimmer, who is now being hailed as a hero, saved the three girls and a police officer who had dove in to assist but ended up struggling in the water.
Following their GPS, three young girls drove their car off a boat ramp at 2:30 in the morning near Moss Point, Mississippi. The car drifted 25 yards out into the Pascagoula River before it began to sink.
According to ABC News, they could exit the vehicle and climb onto the top.
When Evans heard them pleading for assistance, he threw off his shirt, shoes, and phone and dove into the river.
"I was just like, 'I can't let none of these folks die,'" Evans, who said he had been a strong swimmer since age 3, told local news at the time. "'They need to get out the water'. So, I just started getting them, I wasn't even thinking about nothing else."
Officer Gary Mercer of the Moss Point Police Department came on the scene and joined the rescue effort by swimming out, but things took another unfortunate turn.
According to Denver news, Officer Mercer was forced beneath where he breathed water after getting too near to a victim who was resisting.
"I turned around. I see the police officer," Evans said. "He's drowning. He's going underwater, drowning, saying, 'Help!" So, I went over there. I went and I grabbed the police officer and I'm like swimming him back until I feel I can walk."
Evans described the experience as being quite exhausting as they assisted the three girls and the officer in reaching land.
"The police department and I commend Mr. Evans's bravery and selflessness he displayed by risking his own safety to help people in danger," Moss Point Chief Brandon Ashley said in a statement. "If Mr. Evans had not assisted, it could have possibly turned out tragically instead of all occupants rescued safely."
All four are anticipated to recover completely, despite a brief episode of water inhalation-induced vomiting. The City of Moss Point later presented certificates of recognition to Evans and Officer Mercer.
Watch the interview with Evans here: