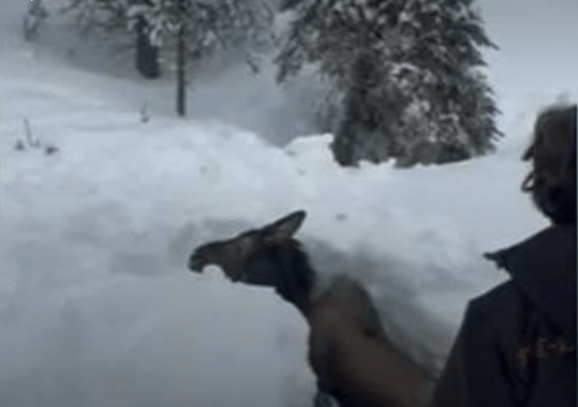 An Alaskan moose was caught in the snow when a group of nearby snowmobilers stopped to help.
Andrew Koerner and his buddy Terry white were out all day snowmobiling when they saw something unexpected. A moose was trapped in a hole in the snow. To people in Alaska, moose are very dangerous animals so helping it escape was an interesting task.
"You could just tell by his eyes that he was just so ready to get out of that hole. That's when I and Terry looked at each other and were like, we're not going to leave until this little guy is out of this hole," Koerner said to their local news station.
The two knew that the moose had been stuck in that hole for a while. The hair on its back had begun to rub off and it looked a little thin.
Koerner and White began to dig an 8-foot hole around the moose to let it free. People who were passing by saw this and they started to chip in with digging the hole. One guy had a sludge hammer and used that to break the ice easier.
According to local news sources, they all spent an hour and a half digging trying to free this moose and was eventually successful.
The moose calmed down, relaxed, and climbed out of the hole.
Kroener mentioned, "It felt amazing, it felt great." he had never seen a moose up close and in an intimate way before this incident. This caused Koerner to look at moose and all wildlife differently.
Winters are generally harsh for people and animals in Alaska, but those are adapted to cold weather. But sometimes it can be hard for a moose, especially in a climate where it is both wet and cold.
An ADF&G biologist, Tony Hollis said, "This is going to be a very tough winter for moose, especially with deep snow and crust from the rain we had at the end of December. We don't expect many of the calves to survive the winter but are hopeful the adults will be able to make it through."
This was a successful rescue that they will tell their kids about.