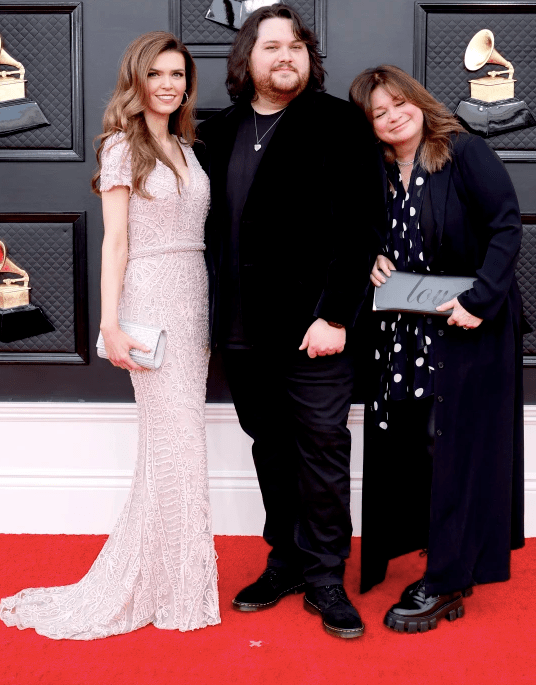 Even though Wolfgang Van Halen did not come home a winner from the Grammys, he did feel like it when he went on the red carpet with his mom Valerie Bertinelli.
He also had his girlfriend beside him and decided to celebrate his good fortune on Instagram.
View this post on Instagram
"We came, we saw, but we did NOT conquer and that's ok! I got to have a wonderful night with the two most important women in my world ❤️," he wrote.
Wolfgang Van Halen was nominated for best song in his genre, rock, for "Distance." This song was an emotion-driven song about his father, rock legend Eddie Van Halen.
He said, "Such an honor to be nominated for the first song I ever released on my own, in a category with artists I've looked up to my entire life. I don't know if that'll ever fully set in. Pop didn't win the first time he was nominated too, so it looks like I'm following in his footsteps quite nicely 😄"
When Wolfgang first found out about being nominated for a Grammy, he tweeted out, "Holy s— I just got nominated for a Grammy." His mother was also really excited for him and posted, "CONGRATULATIONS @WolfVanHalen!!" And along with it a gif of Will Ferrell from the movie Elf freaking out.
"Distance" was Wolfgang's first-ever single and was released on "Mammoth WVH." This song was a tribute to his father Eddie Van Halen.
When he played the song for his dad in 2015, "He cried when he first heard it. It was a really special moment that I'll never forget," he said.
"He did bounce back for a little bit, it was one of those dark periods, and the song was based on those feelings of what it would be like without someone as important in my life as my father or mother. That was my headspace at the time," he said.
Eddie Van Halen died in 2020. Wolfgang was channeling his feelings through his music, and it shows.