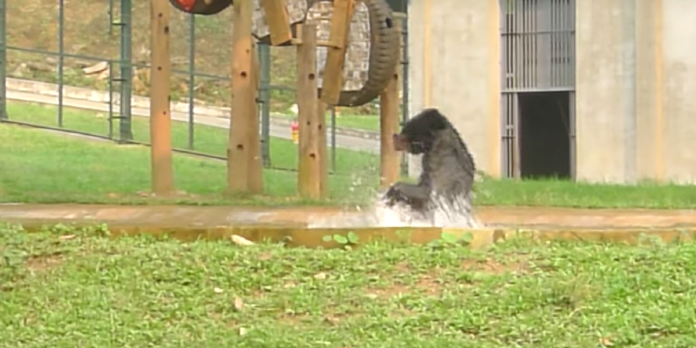 Tuffy the Bear was recently spotted celebrating his newfound freedom by playfully jumping through a pool of water. The bear was recently rescued from a bear bile farm in Vietnam, where he was locked in a cage for years at a time. You can imagine the poor bear's excitement when he was given a more comfortable living habitat to reside in.
Tuffy was being held in one of many bile farms located in Vietnam. These farms forcibly extract bile from animals like Tuffy, and then use the sticky fluid for traditional Chinese medicines. Over 12,000 bears are kept in captivity in Vietnam, China, South Korea, Laos, and Myanmar. Although these products have a high value in the market, the practice of bile extraction is widely condemned for its immorality. There is also a lack of evidence that shows the bile has any positive medicinal effects.
The farms keep the bears in extremely poor living environments. The bears spend much of their lives in small cages with little supervision from unskilled attendants. Researchers have found that bile farm bears suffer from a high level of mental stress, sores, skin conditions, self-mutilation and other medical problems. Your average wild bear lives around 25 to 30 years, while a bile bear has a lifespan of 5 years.
The good news is that animal rescue centers are working tirelessly to save bears like Tuffy. China has opened two bear rescue centers in Sichuan and Yunnan. This bear, in particular, was freed by animal activists working for the non-profit organization, Animals Asia. Since September of 2015, a vet team has been working to rehabilitate the bear from the trauma he had endured. His gallbladder was so damaged that it had to be removed. Multiple gallstones were found upon further examination. Tuffy also had fractured teeth and cracked paws.
"The cracked paws are common to bile farm bears as they only walk on bars, not grass," says Louise Ellis, bear manager of Animals Asia. "Dehydration is likely to have contributed to this too."
During the first night of his rescue, Tuffy refused to return to his indoor den. He was so exhilarated with the spacious outdoors that he ended up falling asleep under the stars. In fact, the bear savors every moment he gets to spend outside, as seen in the video of him joyously leaping through the water.
"Coming from years of little or no water, for Tuffy, this must feel like a true oasis after being parched and in pain for so long," says Louise Ellis. "It must have felt like such a relief to have the freedom to splash around in the water after only being able to stand on the hard metal bars of the bile farm cage."
If you're glad that Tuffy's happy to have a new home, please SHARE his story!
For another cute bear video, watch below:
Source: goodnewsnetwork.org