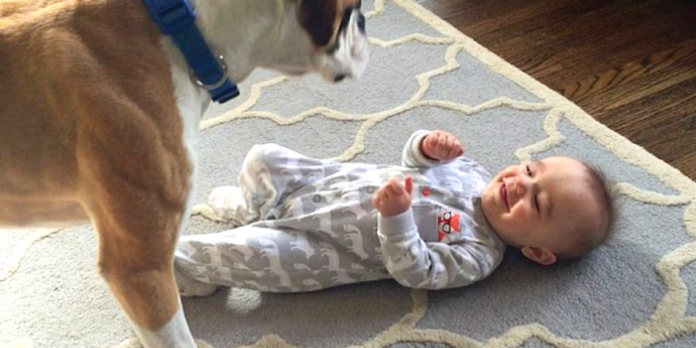 The anticipation of bringing a new baby home can be a time of great joy, but it also presents many worries and challenges to the parents who want the home environment to be safe and welcoming to the newest member of the family.

One mother, Katie Wahrhaftig, had concerns about the family's established canine companion and how it would interact with the baby. Although Jeeves, a two-year-old rescue boxer, whom the family had brought into their household, was intelligent and well-behaved under everyday circumstances, a new baby was anything but the regular order of the day!
With her time devoted to the infant, how would the dog respond? Bringing a rescue animal into the home as a beloved pet is a noble act, but the animal brings its history with it. How had Jeeves been treated as a tiny puppy, and more to the point, what would his reaction be to the baby?
How would Graham, a tiny and vulnerable infant, respond to the large boxer, who, as it turns out, has a heart as big as his sizeable paws? Just wait and see!
When Katie sought to comfort baby Graham, who was wailing inconsolably in the way that only babies can heroically summon tears, puppy Jeeves must have watched carefully as Katie engaged in that time-honored comforting technique: the tummy tickle!
Katie has come to discover that Jeeves and Graham adore one another. You might say that they are brothers by different mothers! When Graham starts to cry, all Katie has to do is summon Jeeves, and give the command, and Jeeves is on to the comforting call of duty.
Jeeves has a patented tickle-touch move that involves putting his warm, wet, silky boxer nose against Graham's tummy and tickling him until the tears turn to giggles of joy and happiness! Not too firm, not too soft; just right is the boxer's gold standard as he gets on the floor with Graham, who lies on a lusciously luxuriant rug and delightedly responds to Jeeves ministrations.
The boxer coaxes out a giggle. Then another. Then, as mom Katie watches with pride as both of her boys interact, Graham gives into the giggles. He laughs, chortles with glee, and then breaks into guffaws as Jeeves renders service to the tiny boy, turning cries of frustration into tears of joy.
Katie's concerns about bringing the two together were not only unfounded, boxer and baby boy have proven themselves to be the best of buds and household brothers. There is a caring in their play, and in Jeeves' gentle tummy-tickle nose rubs, that leaves mom Katie, and anyone else who is watching, feeling their own smile emerge as the two interact.
Doggone it, but Jeeves and Graham certainly enjoy one another!
To watch baby Graham and his caregiver canine companion Jeeves do the tickle-touch happy baby tummy-tickle, check out the video.
If this made you smile, please SHARE to help others smile too, and take another minute to watch this darling video of an adorable baby playing with this husky pup below… You won't regret it!
Source: goodnewsnetwork.org