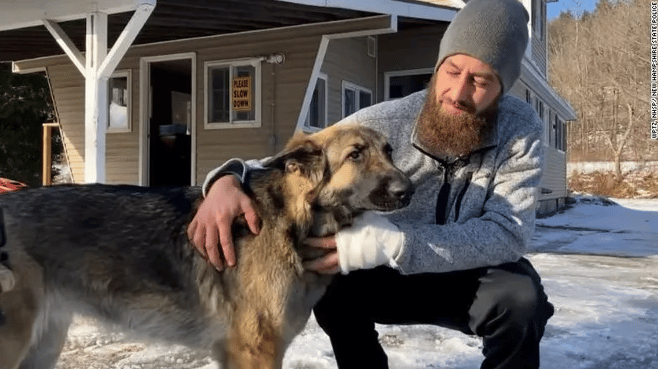 Dogs, especially Tinsley, a Shiloh Shepherd, are truly man's best friend. She led police in New Hampshire to her owner, who was injured in a car accident and required medical treatment.
New Hampshire State Police were dispatched to a report of a loose dog on Monday, but Tinsley continued racing along Interstate 89 when they arrived.
The New Hampshire State Police posted on Facebook, "On January 3, 2022 at approximately 10 PM, Trooper Sandberg of #NHSP #TroopD responded to a report of a loose canine on the Veteran's Memorial Bridge located on Interstate 89 at the New Hampshire/Vermont boarder in Lebanon."
It continued, "Trooper Sandberg and Officers from the Lebanon Police Department located a large German Shepard on northbound Interstate 89.  When Trooper Sandberg and the Lebanon Police Officers attempted to get close to the canine, it continued to run northbound on Interstate 89, crossing into Vermont.  A short time later, Trooper Sandberg and the Lebanon Police Officers located a damaged section of guardrail near the Interstate 91 and Interstate 89 junction."
The authorities were directed straight to a wrecked pickup truck, where they discovered the driver and passenger had been "ejected from the vehicle and were hypothermic and seriously injured," according to state police.
"This was almost like a real-life Lassie situation," Lt. Dan Baldassarre told CNN. "It's really quite remarkable. This dog definitely saved their lives. I don't think they would have survived the night given the temperatures."
Cam Laundry, Tinsley's owner, expressed gratitude for Tinsley's assistance following the incident.
"She's my guardian angel," Laundry told CNN affiliate WPTZ. "It's a miracle that she had that kind of intelligence to do what she did."
Tinsley "the brave" will be rewarded with snacks, meat, and lots of attention.
"She gets spoiled all the time," Laundry told WPTZ. "She'll get some venison, probably burger, tonight and probably some back scratches with it."