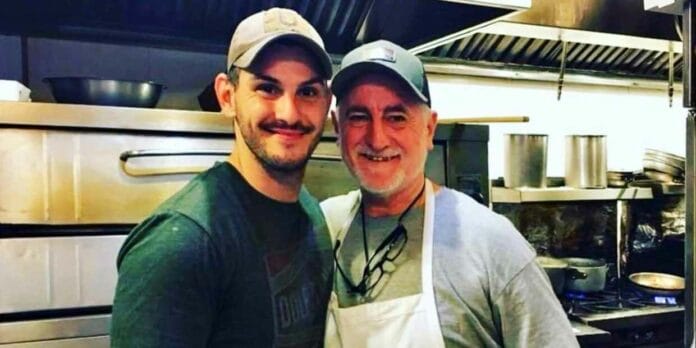 When the 61-year-old Korean woman was seen by Louie Suljovic and his dad, they couldn't resist but help the poor woman who was in grave danger. "We take care of our community," he told TODAY.
One night when Louie Suljovic was working in his pizza shop he heard a shout from his father, Cazim. An older Korean woman had been stabbed and robbed just outside of the shop In Queens, a borough in New York City.
Only one thought crossed Suljovic's mind when he ran outside to help: "Somebody is in trouble, and they need help," he told TODAY.
Suljovic and his father ran after the man, later identified as Eun Hee Chang, and once they caught up they fought each other.
Cazim Suljovic was stabbed nine times and his son was stabbed once puncturing his lung during the altercation.
The NYPD 110th precinct posted on Twitter, "Local Military veteran and pizzeria owner Louie was working behind the counter at Louie's pizza when he and his father witnessed an elderly woman being robbed outside. Without hesitation, they jumped into action to help and were stabbed in the process. Thanks to the quick response of the third platoon patrol, PO O'Donnel, and Lt. Korpolinski apprehended two perpetrators while other responding officers provided immediate medical attention. Louie and his father are now recovering thanks to the staff at @NYCHealthSystem Elmhurst. During the pandemic, Louie remained open and donated meals to Elmhurst Hospital staff and first responders. He and his father are among the very best New York has to offer. We thank them for their bravery and wish them a speedy recovery."
Even though Suljovic is not completely sure about the woman's condition, he said that if he was with her he would tell her, "We love you, and we're here for you, and we will always be here for you," he told TODAY.
CeFaanKim said on Twitter, "Yesterday we met the father son duo who may have saved Eun Hee Chang's life. They too got stabbed while defending her. Tonight we met Chang. In what is common Korean behavior, Chang is blaming herself, doesn't want to attend follow ups w doctors & cops bc it'll get in way of work."
Suljovic said, "We're not going to let stuff like that happen. We take care of our community."