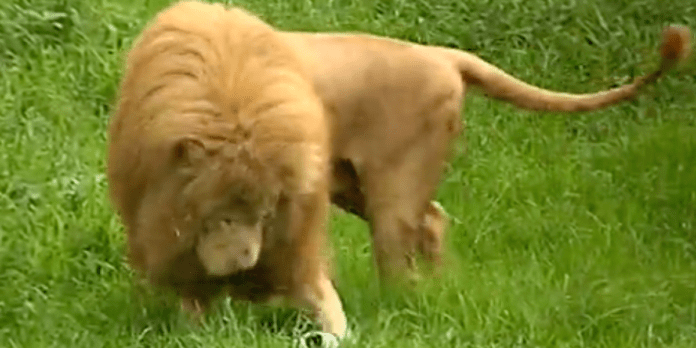 Triton, a white lion born in the Johannesburg Zoo in South Africa has been raised there his whole life.
When you hear "lion" some of the words you probably think of first, are mighty and majestic, not playful and cute.
His trainer, Agnes Maluleke, who is in charge of all the carnivores at the zoo, explains that a group of kids loves to come to the zoo to see things that stimulate the lion and make him happy.

And apparently, they found out that humans aren't the only ones who like to play soccer (or football, as those in Europe, may call it).
One day the kids threw a soccer ball into his area and Triton's reaction surprised everyone.
Since then he loves to show all of his amazing soccer skills to everyone who comes to visit him. Afterall, the king of the jungle doesn't want to be left out… He needs the spotlight too!
It's funny because Triton knows exactly what to expect when his trainer throws the ball in for him to play with. Immediately he reluctantly chases after the soccer ball and goes to town.
His zookeeper loves to play along with him and watch him chase after the ball and kick it over and over again.
Lions definitely don't act like this in the wild, that's for sure. This may have something to do with the fact that he's been lovingly taken care of by the zookeepers his whole life.
But if you think about it, lions are cats, and his playful spirit is much like when cats play with their toys… So sweet.
Triton doesn't even let a little water scare him away from playing his favorite sport. He dives right into the pond to chase after the soccer ball and isn't afraid to get a little wet.
When he is playing he looks so happy and cheerful. You have to see the video.
I've truly never seen anything like it, I mean, who knew lions could be all-star soccer players?!
If you're surprised by Triton's soccer skills, please SHARE this video to show others how awesome he is!
Source: rumble.com