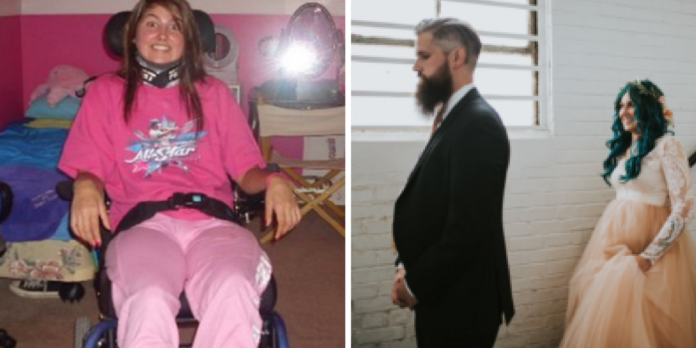 Every girl dreams of her once in a lifetime wedding from the time she's little until the day it actually happens. Jaquie Goncher knew she couldn't let anything hold her back from that perfect wedding. She knew she had to do what she had to do to make sure she would do what everyone thought was impossible: she was going to walk down the aisle to her groom.
In 2008, Jaquie was in an accident that caused her to become paralyzed. Her doctors told her that her chances of walking again were "slim". To everyone's surprise, not only did Jaquie walk down the aisle but she also was able to dance with her husband and be active on her feet for four hours!
Back to Jaquie's life changing accident, it started as some harmless fun but changed in the blink of an eye. In 2008, Jaquie was visiting a friend and enjoying a day of swimming in the pool. After one particular dive into her friend's pool, their day of fun turned into one from a nightmare. After diving, Jaquie rose to the surface of the water and began floating face down into the water. She realized very quickly that although she tried, she could not move her body.
Thinking it was a joke, her friend's laughed for a minute before they realized something was really wrong. While her friends pulled her from the pool, Jaquie's neck and head flopped around and she lost consciousness.
After going to the hospital they found out Jaquie had shattered her C5 vertebra and fractured her C2 and C3 vertebra. These are vertebrae that begin at the base of the skull and extend down the back of the neck. After surgery, Jaquie's condition unfortunately did not improve. She became paralyzed from the chest down. When asking about Jaquie ever walking again, her mom received the response, "the chances are too slim to even put a number on it."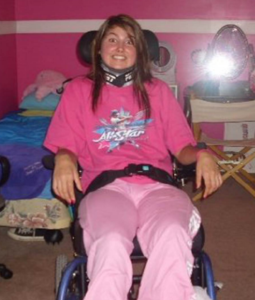 Not happy about that response, Jaquie tried what she could to prove her doctor's wrong. She had feeling in her legs but couldn't seem to move them. She did manage to bend her leg but physical therapy was a struggle. Jaquie's blood pressure was still too low and she continuously fainted.
Her mobility did increase after physical therapy but not as much as she had hoped. Perhaps feeling slightly defeated, Jaquie began taking shortcuts. She began doing everyday things with her dominant hand because it was faster than pushing herself to use her weak hand. She could walk very short distances but grew too exhausted while dragging her left leg behind her. She was losing motivation and drive to improve.
A few years later, Jaquie's boyfriend, Andy, proposed to her. She put all those doubtful feelings aside and decided that it was important for her to walk down the aisle and dance with her future husband on their wedding day.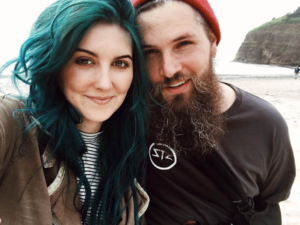 With a new importance for walking, Jaquie gained a huge motivator. She joined a gym in order to build her strength and blew herself away on her first day there as she doubled the amount of time she had walked or even stood since her accident.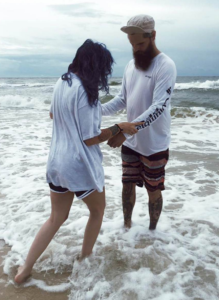 Jaquie said, "I did it for 10 minutes and I thought that was amazing. I was so excited and so blown away, too, because I hadn't been in therapy for almost a year and a half."
Jaquie devoted two hours each day to working out. She would do planks, lift weights, and walk to build her core strength and leg muscles.
While she spent time at the gym, passers-by couldn't help but share their support for Jaquie. She said, "It was cool to have that random support from strangers."
The couple thought they should keep the news of Jaquie trying to walk down the aisle on the down low to other guests to the wedding.
On their wedding day on May 22, dressed in a beautiful gown and floral headpiece, Jaquie wheeled herself to the edge of the aisle. She stopped and stood up. All eyes were on Jaquie (we're sure they were filled with tears) as she began walking down the aisle.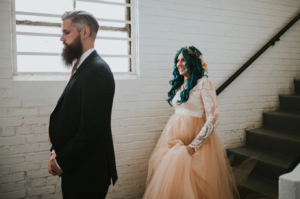 Looking back at the pictures of her special day, Jaquie gets overwhelmed by the emotions felt and captured during the event. "It was emotional," Jaquie added, "It wasn't that I walked down the aisle that it was so amazing for Andy and I, but it was that I was on my feet for four hours and that has never happened. And that blew us both away."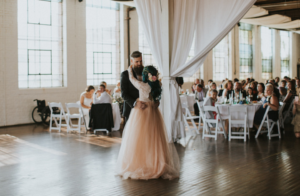 Jaquie hasn't stopped there with her goals. She still works out regularly and tries walking more and more with the assistance of her cane. Jaquie's goal has actually grown significantly and she believes she will be "running one day by the grace of God".
Since her wedding, Jaquie and her husband, Andy, have also announced they are expectingtheir first child together!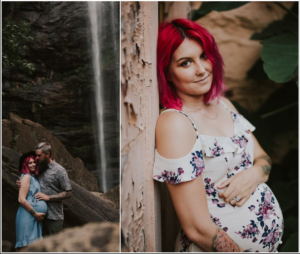 Jaquie has done an amazing job so far proving that anything can happen when you work for it. We send endless support to Jaquie and her family in reaching her new goals!
via: today.com