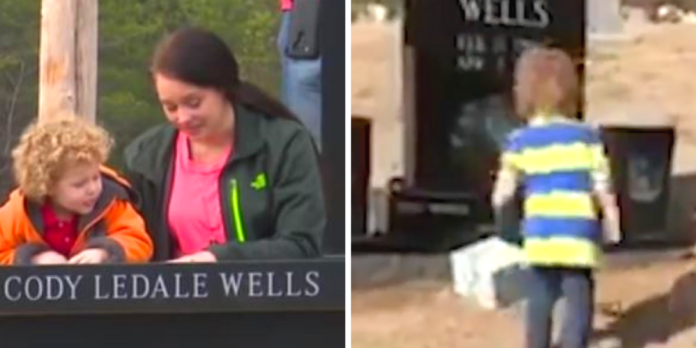 Although it may not seem like it, Officers have one of the most dangerous jobs ever. Many lose their lives every day in the line of duty, and every time it is a tragedy. So when it came to Cody Wells passing away, it was no different.

Cody left behind a fiancee, Danielle Ogle, and a son, Braxton, whom he had loved very much, and they loved him. So much, in fact, that every single day, without fail, they would visit his grave after he died when he drove off the road and collided with a tree.
Ogle had said that when the officers first came to tell her what happened, she thought it was Cody coming back because he forgot his keys. But was told the horrifying news instead.
Danielle and Braxton missed Cody more than anyone could ever imagine. So to help them heal, they took a visit to Cody's grave every day for 8 months straight. No matter the weather, they were there. And it was getting close to Christmas, and for little Braxton, spending his first holiday without his dad was going to be hard.
Everyone was aware of the pain he was going through, and how much worse it was going to get when the time finally came around. Even the man who designed Cody's headstone, Chris Blake, could sense it. But he was the one who decided to do something about it, and he did it in the most unexpected way possible.
On Christmas day, Braxton and his mom Danielle took a trip to Cody's grave, just like any other day. But this time, when they arrived, they saw presents around his headstone. Braxton knew immediately they were for him. Danielle was confused but it soon all began to make sense. She knew that someone was looking out for them.
Braxton was over the moon with excitement. In his mind, he believed that his daddy left the presents there for him, and hadn't forgotten it like he originally thought. But little did he know that those gifts were left there by Blake himself.
Although we all know that there was no way for Cody to leave those presents, this little boy still believed it was possible. And it has to be one of the sweetest gestures ever.
We are so thankful that Blake left those Christmas presents for little Braxton. It meant the whole world to him. And we think it is truly amazing the dedication this little family has put into keeping Cody's name alive.
If you are proud of this family's determination and thought it was touching that Blake did this for Braxton, SHARE this post!
Article via Goodfullness