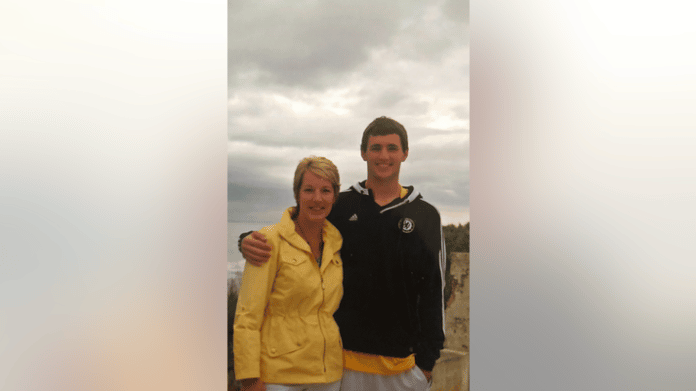 A groom danced with his mother, who is unable to walk, in an emotional scene recorded on camera.
After the son and his wedding planner published footage of the wonderful scene on social media, Zak Poirier and his mother, Kathy Poirier, became viral.
More than three years ago, Kathy Poirier, 55, was diagnosed with amyotrophic lateral sclerosis (ALS), also known as Lou Gehrig's illness. According to Johns Hopkins Medicine, ALS is a neurological system illness that weakens muscles that affect as many as 30,000 people in the United States, with 5,000 new cases identified each year.
On April 9, 2022, Zak's younger brothers Nick and Jake assisted their mother in getting to her feet and giving her assistance so she could dance with her oldest at his wedding to his lifelong love, Anja D'adesky.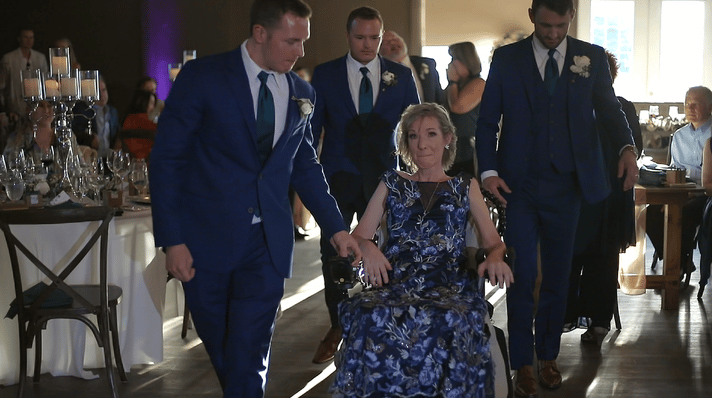 According to Fox News Digital, the new husband and his mother danced to Tim McGraw's "Humble and Kind" in front of roughly 130 guests at Ever After Farms Blueberry Wedding Barn in Mims, Florida.
"We had planned it. The actual dance itself was spontaneous," Zak Poirier, 28, said during a phone interview. "We were both pretty adamant that we wanted to share a dance regardless of how long it was. By the time we got up there, we weren't really sure how it would work — but it went perfectly, and it was great."
Mom Kathy, for one, was ecstatic that her son wanted to dance with her at his wedding, but she was nervous about the occasion.
"I was very nervous," she told Fox News Digital. "I was not nervous about dancing with my son. And I was not nervous about my other two sons holding me up or getting me up. That wasn't what bothered me."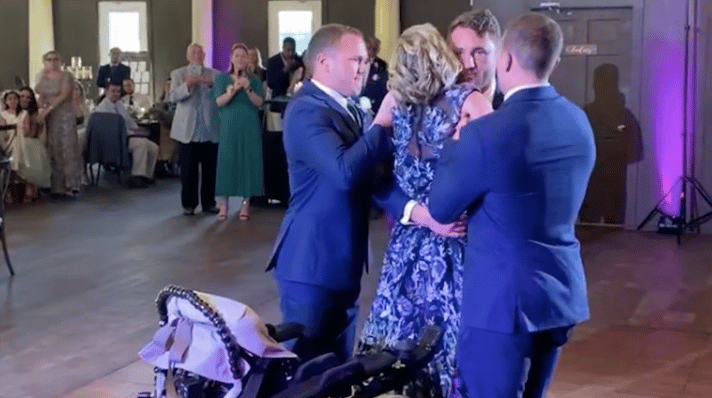 "It's that this was such a milestone in one of my kids' lives, and it wasn't what I had envisioned," she continued. "It was really emotional to have to accept the fact that I can't stand or use my hands. And that people would be watching me. And I felt like I was going to be judged. But I knew I wanted to do it, and I wasn't going to let anybody tell me I couldn't."
When she started dancing with her son, she said all of her nerves vanished.
Zak Poirier, on the other hand, stated he felt at peace and that everything blurred because he was so focused on his mother.
"It was definitely a different feeling," he said.
"With a diagnosis of ALS, it's got nothing but grave news attached to it," Kathy Poirier added. "But to be in the arms of all three of my sons was just beautiful. It just made me feel strong."
According to the viral video provided by wedding planner Roots to Stems, when the mother and son finished their dance, their guests gave them a standing ovation.
"I thought everybody was just so beautiful, inspired and supportive," said the proud mom. "All that fear that I talked about — you know, being worried standing up there — just melted away because I just realized how everybody was just so just downright pleased with my spirit and Zak's love. It was just wonderful."
The mom and son duo stated they're glad they stuck to their dance plans rather than choosing a slideshow or any option to replace the treasured wedding tradition.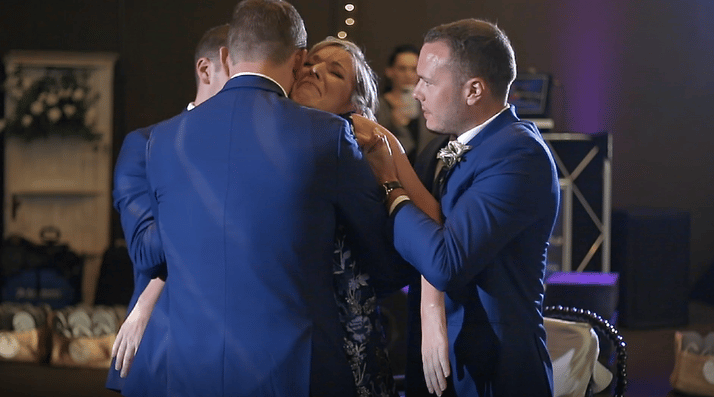 "I'm really glad that my mom is getting the attention and recognition she deserves because, you know, she goes through this every day … People are resonating with that moment and appreciating that moment," he said. "It really speaks volumes about my mom in general."
Kathy said, "This disease — it's been over 80 years since Lou Gehrig was diagnosed and there's still no cure," she said. "And doctors will tell you that you have three to five years to live. Don't ever believe that. Because you can fight it. I think when you put your mind to it, you can overcome any obstacle in your way."
Watch this amazing video below.