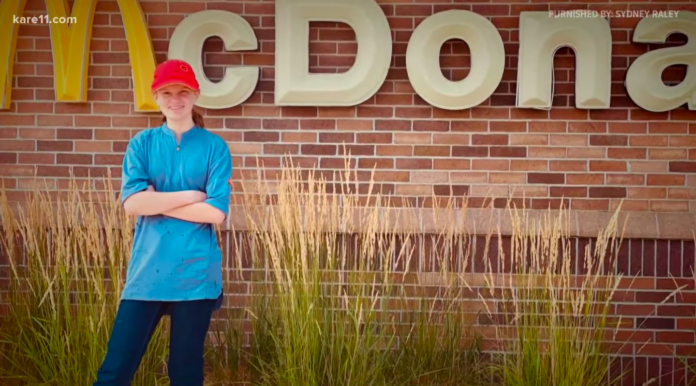 15-year-old Sydney Raley learned exactly what a one-hour class can do for someone when she saved a Mcdonald's customer from choking by using the Heimlich maneuver.
Clocking in on a Saturday shift at the Eden Prairie McDonalds, south of Minneapolis, the young girl was expecting everything to go normal. She was had been working there for around 7 months so she knew what to do.
After giving a woman part of her order, she went away from the window and came back to tell her that the rest of the order will be out shortly. But what she saw happening was unexpected.
She looked out of the window and into the car and the woman appeared to be choking.
Raley told CNN, "She was coughing like crazy, and I noticed she was gagging. Her daughter was in the passenger seat and she looked so freaked out. I immediately knew 'Oh, no, she's choking.'"
Right away Raley told her coworker to call 911, then leaped out of the drive-thru window and helped the choking customer. Raley had taken a previous class that taught Red Cross first aid for babysitting, she performed the Heimlich maneuver on the choking customer with the help of another person who was there.
The chicken nugget was lodged out and the woman, who was in shock, was also extremely grateful. When first responders arrived they saw that the situation was already resolved.
"They said, 'Congratulations you're a lifesaver; you're a hero.'" Sydney said. They gave her $100 as a thank you from a fund that is used to give to people who do good work in the community.
When the teen's parents arrived, they saw the police cars and the ambulance, they became worried that something had happened to their daughter, who suffered from social difficulties because of her autism spectrum diagnosis, at the age of 11.
Owner-operator Paul Ostergaard said in a written statement, "We are incredibly proud of Sydney and her quick, heroic actions over the weekend to help one of our valued customers. Sydney truly personifies what it is to be a hero and we are incredibly lucky to have her as a highly-valued crew member at our Eden Prairie restaurant location."