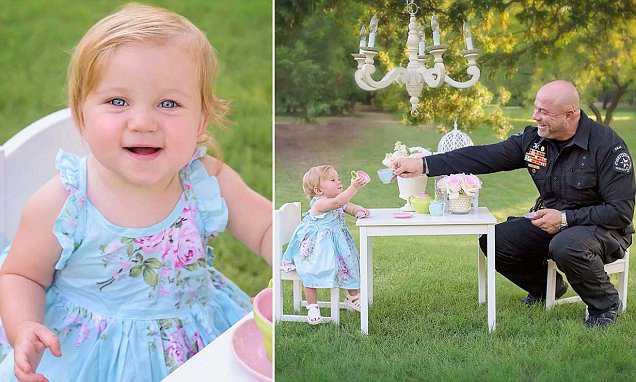 "She loved clinking her little tea cup with him. They had a bonding moment there for sure," mom Destiny Hall said. "Mark Diebold, without a doubt, is one of the most genuine, loving, thoughtful and caring [people] we have ever met. He is quick to think of others and we are so blessed to call him friend and family."
This woman is referring to the man who helped deliver her baby in a gas station parking lot nearly a year ago who now is still close with her pride and joy, her daughter Evelyn. After this had occurred, Destiny was sure to remain close with the sheriff. After the small girl had been born, there were pictures of her wrapped up with the officer's badge pinned to her blanket.
Now that Evalyn is turning one, there was a need for a very special photo shoot.
The one-year-old and the police officer set up for a tea party which was captured by a professional photographer. There was plenty of smiles and laughter as the two enjoyed their "tea" and caught up over how quickly the small girl had grown.
And luckily, because it was professionally taken, there are some pretty adorable photos! I'm not sure it gets any sweeter than this! Watch the video below and look for yourself!
If you think these two have one of the cutest friendships, and are thankful this officer was there to help deliver Evelyn, SHARE this post!
Article via ABC7News and Cyndi Williams Photography/ Image via Longroom