Cesur the dog and his owner were inseparable. Mehmet Ilhan, and his dog were always the best of friends and when he came down with an illness that left him paralyzed.
The one that was there by Mehmet's side every single day, was his best friend and loving dog.
Mehmet recently went to the hospital and his best friend, Cesur, took it very hard.
"Because of my father's paralysis, they had a different kind of connection," Mehmet's son, Ali, said. "When my father was in the hospital during his last days, Cesur stopped eating."
Unfortunately, Mehmet passed, leaving his dog in the loving and capable hands of his son. 
One day when Mehmet's son noticed the dog going by himself, for long walks for hours at a time, he began to become curios as to where the dog was going. When he found out he couldn't hold back the tears because he didn't realize how deep the emotional connection was between the dog and his father.
After Mehmet's body was brought back into his home before the funeral, Cesur refused to leave his side. He was steadfast and dedicated to his best friend.
On the day of the funeral, Cesur lead the way as they took Mehmet's casket to his final resting place. He was sure to have been there to pay his respects. After the funeral, Ali took the dog home with him.
Every day after that, Cesur took a walk on his own, and each time he returned home but Ali was always curious to know where the dog was going.
He desperately wanted to figure it out, so one day on his walk, Ali followed him and to his surprise the dog led him to his father's grave.
He sits, and spends time just paying dues and saying hello to his old best friend, and the groundskeeper at the cemetery told Ali it's the first this the dog does every morning.
Ali was left in tears, and from there on, he began taking daily walks with the dog to visit his father's grave too.
"Cesur has always been a noble animal," he said. "He will live with me from now on."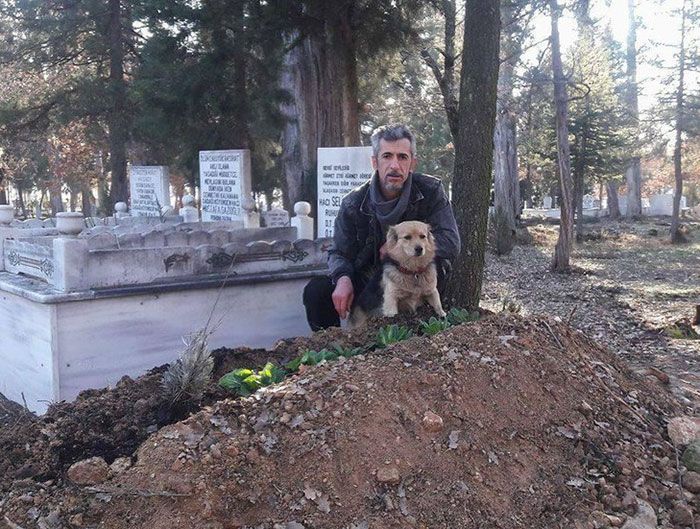 We are very sorry for the loss of the family, but are glad that the dog is still going to see his best friend every day. Cesur is a very smart and loving dog, and he is bringing his family closer than ever with his actions.
If you are impressed by how smart and loyal this special dog is, then SHARE this story with a friend.
Source: gogramma.com