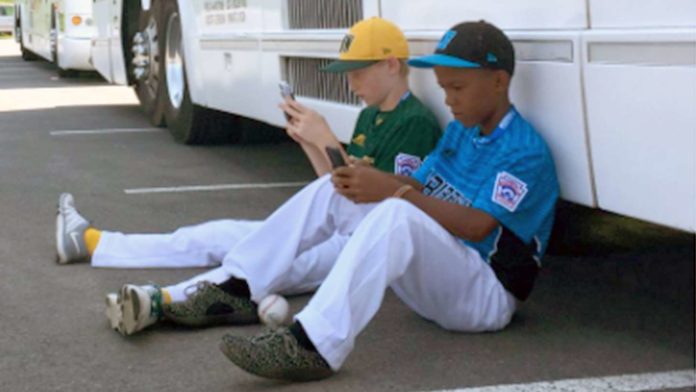 Nowadays, it is pretty typical to see kids focused on their phones, whether they are texting or just playing a game. Well, at least that's what we assume.
When this photo of these two young Little League World Series Baseball Players went viral, that's what everyone thought. But their story is MUCH bigger than that.

In between games, the kids have down time to meet other players and watch other games, but these two kids did something completely different.
These two players, one from South Dakota and the other from the Dominican Republic were both sitting down on their phones and they didn't seem to be bothered or preoccupied with anything else going on.
Anyone watching this would have thought that they were just being antisocial or just had to have their noses in their electronics and to be honest, I would have thought the same thing, but it's truly not what you think.
These two youngsters were actually talking with one another and the proof was all over their phones. People watched as they communicated back and forth without even speaking a single word.
It was obvious that there was a language barrier between the two teams who came from different countries but that didn't stop these two young boys from doing whatever it took to become friends. So instead of just trying to make sense of one another, they instead opened their phones, and pulled up Google Translate to talk back and forth.
They typed what they wanted to say, and then were able to show the other, and they continued to converse for a while, and quickly became good friends.
For most adults, meeting someone who speaks a different language can be a nuisance. It's very likely adults won't even bother trying to talk to one another if there's a language barrier, but these kids were determined to make it work in the most innovative way possible.
Luckily Bob Holtzman, a former ESPN anchor, who is now with the Major League Baseball Players Association, captured a photo of the touching scene in front of him.
We are so thankful that these two found a way around the language barrier, and were able to talk to and get to know one another. I think this is one of the sweetest things ever, and I think more people could learn a lot from these two sweethearts.
I think this is one of the sweetest things ever, and I think more people could learn a lot from these two sweethearts. I'm glad we can say that in this case, it's a good thing those two had cell phones.
If you are thankful that these two used their phones to communicate with one another, which may have otherwise been impossible, SHARE this post!
Article via MSN