When a 6-year-old discovered she had lost a tooth while flying, she was frantic to find it again.
A passing captain noticed this and moved in to explain the issue in writing to the Tooth Fairy while wearing his jacket, hat, and epaulets.
Lena and Laura Larmon were nearing the conclusion of a protracted journey when they encountered a 36-hour delay in New York on their trip from Norway to Greenville-Spartanburg International Airport in South Carolina. Once the 6-year-old Lena learned she had lost a tooth at the baggage claim, she must have thought that finally getting off the plane was joy.
"We tried to walk back to the airplane, but security was closed. It was 2 a.m."  When she learned that without the tooth to place under her pillow, there would be no accompanying visit from the Tooth Fairy, Lena was "crying and very emotional," according to her mother Laura.
When  Captain Josh Duchow of United Airlines noticed Lena's dilemma, he intervened to offer assistance. There would be little question that a brief written explanation from "Captain Josh" would be an acceptable receipt for the Tooth Fairy's records given his captain's bearing and official attire.
"Dear Tooth Fairy, Lena had a tooth fall out on her flight to Greenville, Please take this note in place of her tooth," wrote Captain Josh, who piloted the flight.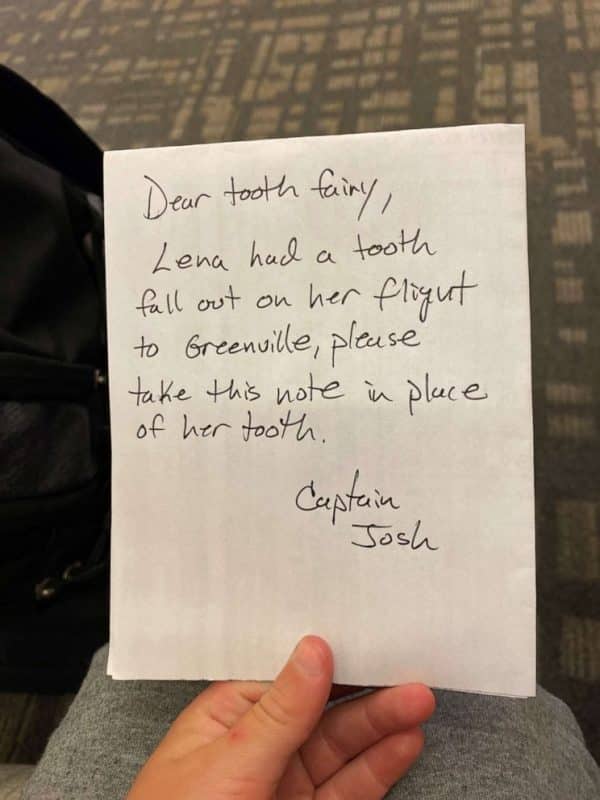 Later, Mother Laura posted the tale on Facebook and Instagram as a diversion from "a world of bad airline stories."
On behalf of Duchow, United Airlines issued a statement that read,  "we're proud to see moments like this that underscore our commitment to going above and beyond for our customers and creating an airline where Good Leads the Way."