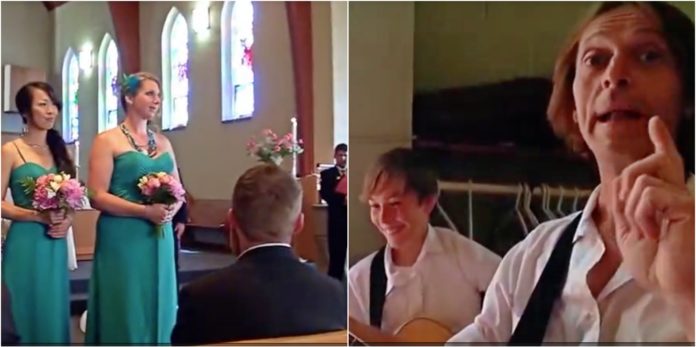 Everybody loves a good surprise. Maybe it's a Christmas gift you never expected to actually get or a friend who you haven't seen in a while, either way, it's always nice to be pleasantly surprised.
In my opinion, one of the most exciting surprises to witness is a good old fashion flash mob. There's just something about living your daily life and then all of a sudden everyone is singing that really brightens your mood.
Recently, a Niagara Falls wedding was blessed with a surprise that will surely stay with them forever; a flash mob.
Rick and Shannon of Ontario were already having a monumental day when students from the Music Depot created an experience that sets their wedding apart from everyone else's.
The video quickly went viral and has been enjoyed by hundreds of thousands of people.
Rick and Shannon were both at the front of the church when the excitement began. Out of nowhere, a teenage boy around 13 of 14 stood and began to sing "Chapel of Love." Next, a girl around the same age stood next to him and began to sing. Soon, teenagers around the room were standing and singing, chiming in with different harmonies.
The bride and groom had no idea it was coming, but it was evident they loved the musical piece. Even the weddings guests were surprised but delighted.
If you thought just the singing was impressive, then you're in for a treat. After a few lines of acapella singing, more teens came in from the back of the sanctuary, playing guitars and singing along.
As the beautiful serenading came to a close, all the students started the walk to the back of the church and out the door, leaving in just as a dramatically exciting manner as they started.
In the video, you hear the congregation go wild clapping and cheering for the performers, who clearly sang beautifully, adding to an already gorgeous day.
Afterwards, the bride and groom thanked the students profusely for the unique wedding gift.
Shout out to the Music Depot's parents for organizing such a wonderful gift and for the students being willing to give up their time to bless the lives of others. Let this story serve as a reminder to always being willing to try something a little crazy because you never know whose day you are going to make.
If this story brought a smile to your face, please SHARE with a friend.
Source: rumble.com