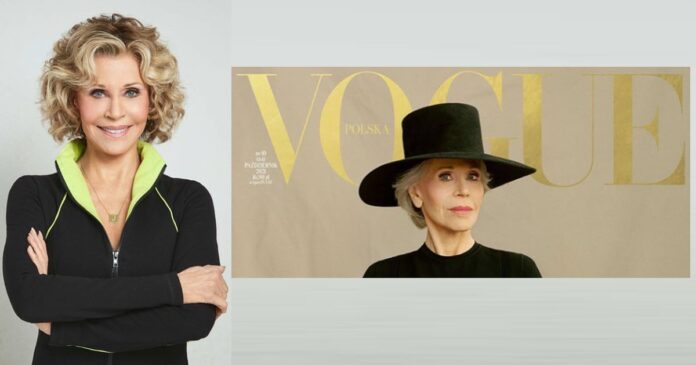 Jane Fonda proves again and again that she doesn't matter. She is an influence and inspiration to so many women over the age of 50 and proves that older women can also succeed in an industry dominated by young women. And Hollywood makes that difficult for so many people.
Again she found herself making an influence by appearing on the latest cover of "Vogue."
It appears that she has had quite the year.
After seven seasons, the activist and actress has celebrated the finale of her popular show, "Grace and Frankie."
Not only did she have a TV show, but she is also making the world better through her effort to save the environment.
She also published a book about the matter.
The book is called "What Can I Do: The Path From Climate Despair to Action," and is about the climate crisis and how it impacts the world, and how people can help fight it.
She is again making headlines after appearing on the cover of "Vogue."
This isn't her first appearance on Vogue, below is Fonda showcased in 1959.
Jane Fonda on the cover of Vogue Magazine, July 1959 #JeanandJane pic.twitter.com/LSchdDoPHY

— YouMust RememberThis (@RememberThisPod) June 30, 2017

Her fans can't get enough of the star. One of her fans said, "You have always been and will always be my inspiration as a strong, brilliant, and attentive creature. Thank you, Jane."
Another said, "Jane thank you for being a role model for women aging women, women with a voice."
Lastly, one said, "Can you please be on every front cover of every magazine? Many thanks."
Jane Fonda is truly a Hollywood star who is loved and cared about deeply by her fans. Not only is she a great actress and model, but she is Passionate and kind-hearted. She is adored by many and will continue to be by so many more.