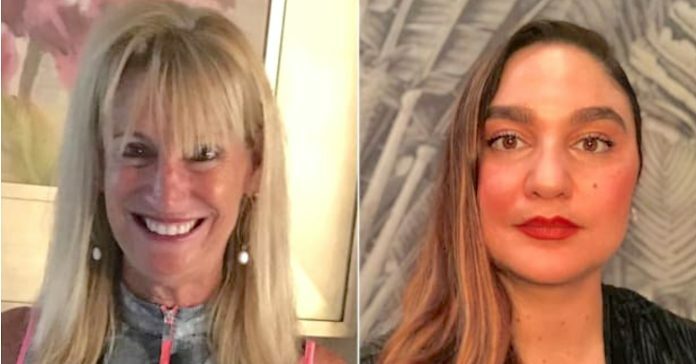 A $100 cash donation from a nice American on an airline journey 23 years ago inspired optimism in two young ladies leaving Yugoslavia during the country's collapse.
They intended to track down the mystery woman after two decades, but they only knew her first name—Tracy.
Their longing has now evolved into a reunion that has left both women in tears, thanks to some amateur sleuthing and their internet post going viral.
When Ayda Zugay and her sister Vanja Contino fled the war triggered by the dissolution of the Soviet Union in 1999, they were 12 years old. An American tennis coach on a Northwest Airlines aircraft noticed their misery and gave them an envelope.
In it was a pair of dangly earrings worth $100 with a letter reading "I am so sorry that the bombing of your country has caused you and your family problems. I hope your stay in America is a safe and happy one for you. A friend from the plane—Tracy."
That was the end of the story for years. Ayda and Vanja are currently residing in Boston and Connecticut, respectively.
But Ayda would never forget Tracy's charity, and she would never give up hope that the sisters would be able to thank her in person one day.
Tracy Peck, a 70-year-old Minneapolis tennis teacher, was working as a massage therapist at the time. A flood of texts and phone calls recently informed her that she had been the topic of a national news report. Zugay was on the lookout for her, and CNN's Catherine Shoichet revealed her plan to the globe.
But it was when the refugee advocacy group Refugees International tweeted a 2-minute video of Zugay detailing her desire to find Tracy that the search became decisive.
One of Peck's kids noticed the tweet, as did Susan Allen, a tennis coach colleague.
Tracy was on the plane that tragic day because she had been given the opportunity to fly to Paris in 1999 to attend the French Open. Allen, who helped organize that trip, figured he'd need some proof, so he reached out to another tennis friend who had been on the same flight, and who just so happened to have in his scrapbook the receipt for the flight from Amsterdam to Minneapolis on May 31st, along with a team photo from the same date as Zugay remembered.
Then, in a group chat with Zugay and Tracy Peck, Allen posted the photos as confirmation that Zugay's 23-year search was finally over.
A Zoom call was arranged with her and her sister, and on their computer screens appeared the same smiling face from 23 years before, albeit with a few more tears.
"Hello, beautiful ladies!" Peck exclaimed, to which Zugay replied, "It's been more than 20 years," now fully capable of communicating in English after previously relying on hand signals.
They discussed a variety of topics, including how they used the $100 to eat pancake mix for the entire summer.
"You know those huge doors that they have in old places across the world? It felt like that big, heavy door just got shut. And I'm finally able to move forward and thrive… And it just makes me so happy," Zugay stated. "Thank you for reminding me to be strong."
They hope to meet up in person after catching up via video calls and learning about Vanja's daughters, among other things.