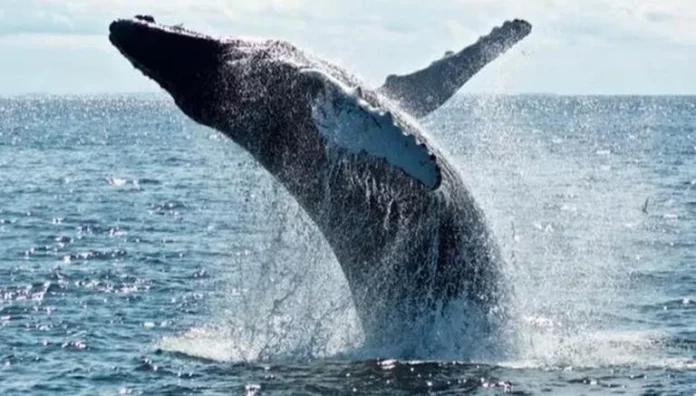 A 7-ton humpback whale bodyslammed a boat, injuring every person on board, and turning a peaceful whale-watching trip into a traumatic one.
The Mexican port city of Topolobampo was approached by a tiny boat named Andrea on May 14. According to Live Science, the team was hoping to see a humpback whale that had recently entered the area's seas.
According to a Twitter video shared by the Mexican news outlet Lnea Directa, Andrea was cruising alongside other boats when a humpback whale breached and landed on top of the boat, almost flipping it over.
#VideosLD | ¡Impresionante! Cae ballena sobre una lancha en Topolobampo; encuentran sangre en la embarcación pic.twitter.com/bbuLgYiHyR

— Línea Directa (@linea_directa) May 15, 2022
Another angle was also recorded.
https://twitter.com/BrujitaMerak_/status/1525670517495083008?ref_src=twsrc%5Etfw%7Ctwcamp%5Etweetembed%7Ctwterm%5E1525670517495083008%7Ctwgr%5E%7Ctwcon%5Es1_c10&ref_url=https%3A%2F%2Fwww.westernjournal.com%2Fraw-footage-whale-watchers-crushed-massive-breaching-humpback%2F
The crash severity was displayed using a picture posted on Twitter, which showed the boat's fallen roof, bent metal bars, and blood-stained seats. According to Live Science, it was unclear if the blood in question belonged to the whale or the crew members.
Demasiado…

Así quedó la lancha. pic.twitter.com/2hGvtMqh8s

— 💫 Karem 💫 (@BrujitaMerak_) May 16, 2022
According to Mexico News Daily, two men and two women made up the crew. A member shattered a limb, while another had head and neck injuries.
Reports say the Andrea was sailing without the required navigational permissions on the day of the disaster. The staff neglected to wear life jackets as well.
Local police think the boat was disturbing the whale. It's possible that this upset the animal, causing it to bodyslam the boat.
The incident, according to some analysts, was most likely an accident.
"I do not think the whale was retaliating against harassment," Jens Currie, the chief scientist of Hawaii's Pacific Whale Foundation, told Live Science. "The whale was likely unaware of the boat's close proximity."
According to Currie, humpback whales often react to disturbances by swimming away.
According to Live Science, Mexico's environmental protection agency, Profepa, was looking into the event because the Twitter video did not show the seconds preceding the crash. The organization intended to examine the whale's wounds.
The humpback whale population in Central America is classified as endangered by the National Oceanic and Atmospheric Association.
According to Lnea Directa, the boat crew may be held accountable under Mexican law for harming a protected species if the humpback whale suffered serious injuries due to the boat-whale accident.
According to NOAA, one of the main hazards to humpback whales is harassment by vessels.
"Whale watching vessels, recreational boats, and other vessels may cause stress and behavioral changes in humpback whales," it said. "Because humpback whales are often found close to shore and generally surface in an active state, they tend to be popular whale watching attractions."
The incident's origin is yet unknown, but authorities have started proactively warning whale watchers.
"Please do not get too close to the whales," Gerardo Vargas Landeros, the mayor of Mexico's Ahome region, told Mexico News Daily. "We can enjoy their beauty, but at a distance."