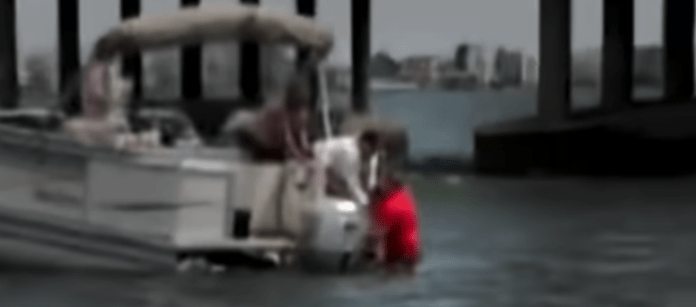 It was just a normal Sunday for Jonathan Bauer who was out running errands with his 13 year old daughter.
Then, while on a bridge crossing the Assawoman Bay in Ocean City, Maryland a truck lost control.
"The first thing I remember is hearing the tires screech," he said. Then he saw a truck in front of him hit a cement barrier and flip onto the guardrail.
The windows were down because it was a warm day, glass covered Ava, his 13 year old daughter. While making sure his daughter was ok he heard a commotion.
"And then we heard yelling up ahead… where the truck was on the railing and I could see… someone was trying to throw up the door to get out," Baur said.
He ran over to help the man because the door kept closing on the him as he tried to escape from the vehicle handing over the bridge.
"He just pointed down at the water and when I looked over I saw the car seat… and then about six feet away from the car seat was a little girl. She was on her back, completely floating, head completely out of the water, arms moving, legs kicking, and a little pink dress."
Baur then observed the little girl flip on to her stomach face down and that's when he jumped. Immediately upon hitting the water he quickly swam over to the girl and patted her on the back. Thankfully, the little girl began to spit up water, coughed, and took a deep breath.
Shortly, a family operating a pontoon boat showed up plucking Baur and the little girl out of the water.
"I can't say how proud I am of him," Baur's wife Wendi said, while tearing up. "It doesn't surprise me. If you know him, you know that that is something he would do."
The little girl is fine and will make a full recovery.