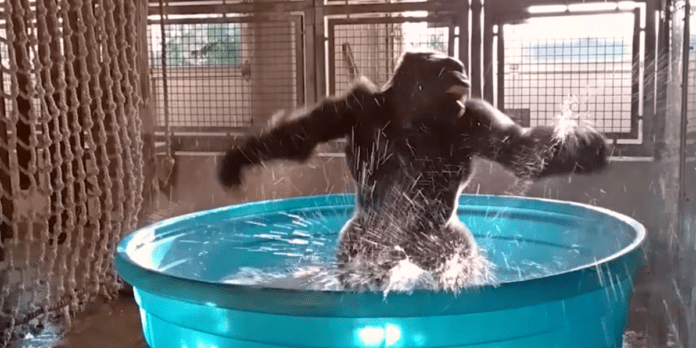 As humans, we often forget or disregard how intelligent and humanlike God's creatures can be. Our story unfolds at the popular Dallas Zoo where a 14-year-old Western Lowland gorilla male is entertaining himself in the kiddie pool. He seems to love the water and splashing around in it, and a photographer captured the precious moments on video.
His name is Zola, and fans have gone wild watching the 31-second video over and over again. The video has since gone viral on YouTube where it has been viewed close to three million times. You can check out the "Breakdancing Gorilla" here.
Those who have seen Zola in action say it reminds them of the iconic "Flashdance" movie that actress Jennifer Beals starred in years ago. Zola is very agile and rhythmic as he splashes and dances about. Some folks swear that Zola was actually a dancer dressed up in a gorilla suit, but this is no acting gig. See for yourself; this photo proves that Zola is the real deal.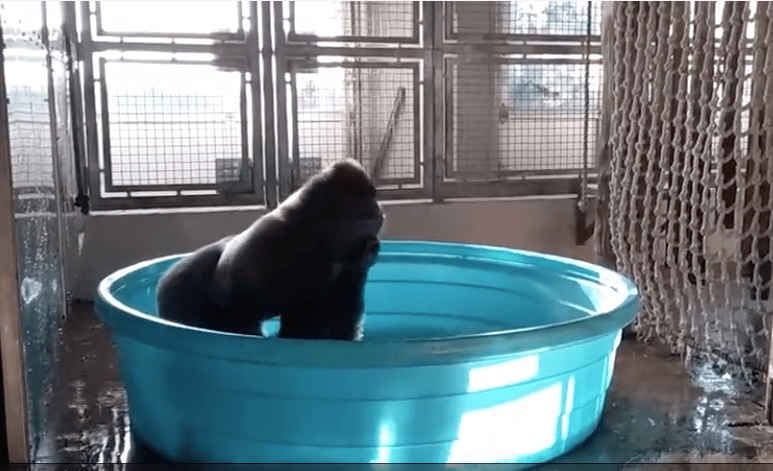 Another YouTube member plays the video of Zola with the "Flashdance" song "Fame" blaring in the background. It's hilarious, and fans also enjoy watching Zola spin around, splash and jump in almost perfect rhythm to the background music. Plus, closeup pics of Zola are included. Click here to watch it.
Zola is a handsome teen gorilla, a silverback. These males grow to be anywhere from four to six feet tall in standing height and weigh between 150 and 400 lbs. They possess amazing strength and intelligence. Like humans, gorillas have 5 fingers on each hand and five toes on each foot, and when very young, gorillas behave like children as they develop.
They run around, play tag, hold hands, cause mischief and so forth, and while in captivity, these beautiful mammals have also learned sign language to communicate. Some smart gorillas know how to use more than a thousand signs, and believe it or not, these amazing apes enjoy swearing in sign language.
How is that possible?
Animal experts say that if gorillas are taught the sign language for swear words, then, they enjoy using these words a lot. Go figure.
Like humans, gorillas cannot swim naturally, so they avoid large open bodies of water. They do like playing in the water at zoos, however, and the videos here prove it. Many zoos such as the Dallas facility like giving gorillas kiddie pools to enjoy splashing around in the water. If the gorilla is engaging with the pool he or she is in, that is a good indication the animal is happy, and it would appear that Zola was having a blast solo in the zoo's pool.
According to the National Geographic, these incredible animals are critically endangered with their current population decreasing. They live in the rainforests of exotic places like Cameroon, Congo, Gabon, Angola and other regions.
If you enjoyed Zola's zeal and great dance moves, drop a like and share this video with your friends!
Source: Rumble