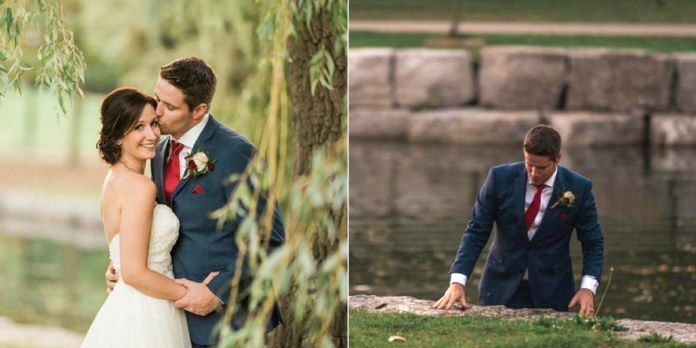 Your wedding day is supposed to be a day that you won't forget. And for nearly everyone, that is completely true for the simple reason that they get to marry the love of their life. But for one couple, their wedding day was also a day that could have ended in tragedy and is one that no one will ever forget.
Clayton Cook and his bride Brittany had been getting their wedding pictures taken outside in Cambridge, Ontario, Canada, and were loving every minute of it. The day had been going perfectly, and couldn't have been going any better.
The couple even noticed these 3 children following them around as they got their pictures taken. Clayton had been keeping a close eye on the children considering they were getting very close to the water. But everyone else was enjoying the cheers and "Oh's" and "Awe's."
"For several minutes these kids were following us, and I was just keeping an eye on them because they were standing close to the water. Then while Brittany was getting her solo shots taken I realized only two were standing on the rock ledge," said Clayton.
Concerned, he began to look around, and then looked into the water. But what he saw made his heart stop. In the water was a child struggling to keep his head above the water. And as many would have begun to freak out, Clayton decided to do something completely different.
Clayton dove right into the water, leaving his new wife Brittany completely clueless. She thought that he was maybe playing a prank on him. Until she realized that this was no prank at all.
Cook was able to grab the little boy, and then bring him right out of the water onto land, where he was greeted by the other 2 little children. And everyone was glad to see that he was perfectly fine and would be just fine, all thanks to Cook.
To make it even better, their wedding photographer caught the amazing rescue on camera. And the internet has been eating the whole thing up. People have been saying things such as "Wow! What a hero! Such a selfless thing to do…so lucky that he just happened to be there," said one Facebook user.
We are so proud of Cook and his brave selfless kind deed. If he hadn't noticed that the other little boy was missing, and swam to save him, then the little boy may not have survived. We are just so thankful for him!