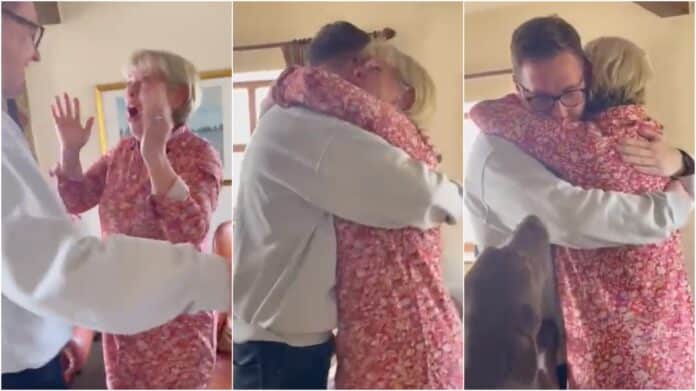 After nearly three years of being separated due to COVID-19 travel limitations, this touching video captures the mother and son's first hug.
Fiona Murphy, 58, who is incredibly sensitive, claimed she "almost had a heart attack" when Sam Wilkinson, 30, who lives in Australia, made the unexpected trip back home on Tuesday, June 28.
She used to visit her son in Australia every six months, but since 2019 she hasn't been able to do so because of the nation's stringent pandemic measures.
Sam even informed his mother just 48 hours ago that he could only travel to the UK in September. Sam spoke with his family via video conversations.
But in actuality, the salesman had planned to fly back the next day for a covert visit, leaving his mother in "disbelief" when he did.
Fiona said: "I was working from home that day, and I nearly had a heart attack when he walked into the front room. I had no idea he was coming home. I was in a state of disbelief. I just could not believe what I was seeing in front of me. It was just bizarre. Having only spoken to him 48 hours before, I couldn't get my head around the fact that he wasn't in Australia anymore – he was in the front room, at home. It was just crazy."
Fiona, a native of Liverpool, said that her son had traveled to Australia six years prior as a postgraduate student. He then made Sydney his home and worked there.
But after being gone from the UK for two years and eight months, he had made the decision to surprise his stepdad and his two siblings with a journey home.
Fiona said: "My son's been in Australia for the last six years, and we as a family have seen him every six months. Then obviously the pandemic hit, and we couldn't, so I spoke to him regularly on Facetime. And when I spoke to him, he said, "Well, hopefully, I'll get home in September." But his stepdad and his brother and his sister had been scheming – and he was actually flying home the next day."
Sam was scheduled to go to Australia on July 11; thus, Fiona had planned lots of "precious" family time with him before then.
She said, "He flies back to Australia on 11 July. It's just a couple of weeks, so our time is dead precious, just because it's so short. Nobody knew he was coming home except for my husband and two kids. So we've been seeing grandparents and just having some lovely family days out – and just having some quality time as a family."
Australia implemented among of the strictest Covid-19 restrictions in the world before reopening its borders to travelers who had received all recommended vaccinations on February 21 of this year.
Pre-departure PCR test requirements were likewise abolished nationally on April 18 of this year, while regional guidelines are still in place in several states and territories.
Talker