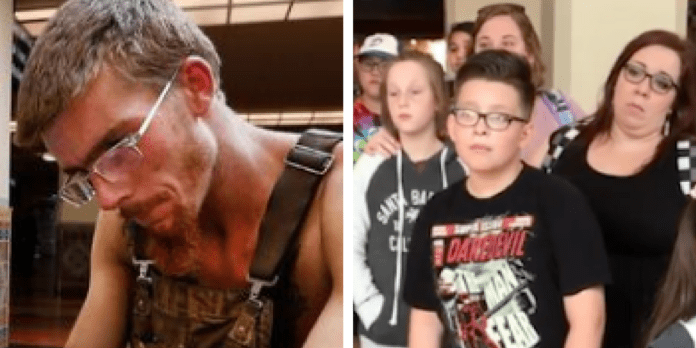 Sometimes, there are no words, and it's best to listen to the beautiful sounds that are delighting the world. For example, Union Station in Los Angeles is home to more than 110,000 on the go transportation passengers a day and the downtown hub for the Metrolink commuter trains, subway, and other rail lines.
Inside its monstrous corridors, Union Station also features a special spot with a grand piano, and a homeless man named Matthew Shaver. Mostly every day, busy commuters can watch and hear Shaver take his 20 minutes of playing time and dazzle his audience with a delicious blend of blues, pop, and jazz. His talent is incredible, and he truly enjoys playing for his listeners and getting a few monetary rewards along the way. Fans walk up to the piano and drop dollar bills or coins for the piano man.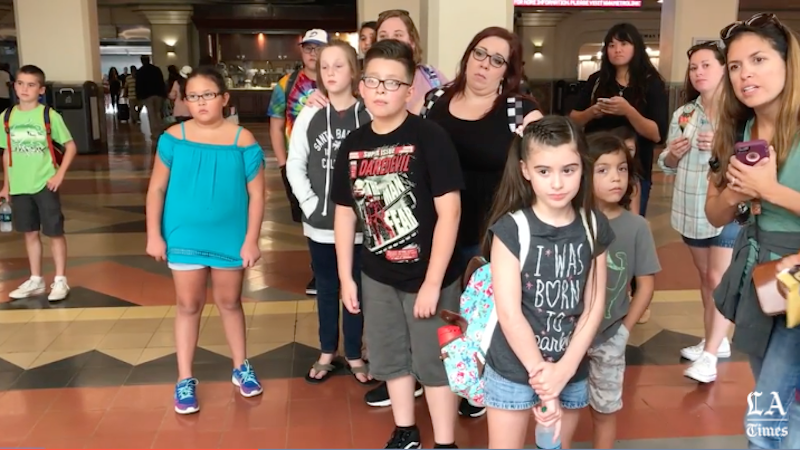 Often, he is clothed in a pair of old khaki Carhartt coveralls without a shirt underneath and sneakers. He tinkles away at the ivories with masterful movement and eloquence.
To get an idea of Shaver's musical gifts, check out the wonderful video that an L.A. Dodgers fan recently captured walking through Union Station after attending a game. Shaver is entertaining his appreciative fans with his rendition of "Heart and Soul."
Shaver, 30, wears glasses as he plays the piano, and the homeless musician says he can deliver just about any type of music to his adoring commuters. If he didn't have access to playing the piano, he says he is not sure what he would do, calling the classic instrument a form of meditation and therapy, a blessing.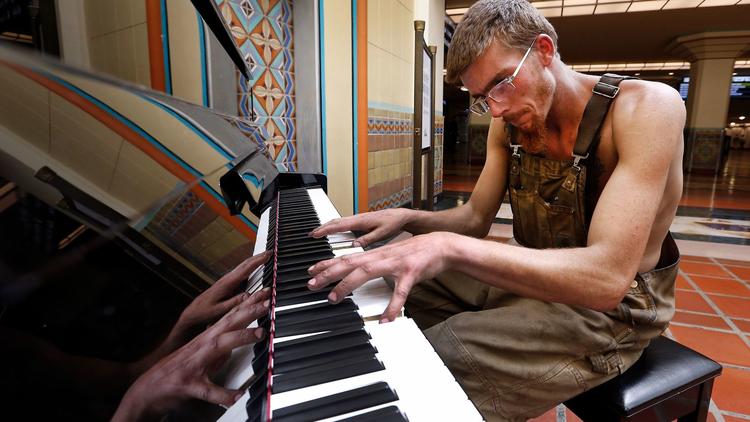 Shaver was interviewed by the Los Angeles Times newspaper and told the publication that he's not in it for the tips, but suggested it's his way of defining his role in the world.
"It's the only thing I got left," he told a reporter.
He is a Marines Corps veteran and got hurt in Afghanistan several years ago and admits to having a police record because of his partying. He also contributes his problems to depression.
The newspaper tried to verify all the facts Shaver was telling them; the publication did uncover an arrest record from Shaver's native state of Washington. The rap sheet included a drug arrest for possession and several appointments with the Veterans Treatment Court.
Social services and outreach organizations have reportedly offered Matthew Shaver assistance, but so far, he has refused any help.
Matthew Shaver looks at his plight this way. He is not homeless; he is "home-free."
Did you enjoy Matthew's playing? If so, SHARE this article!