A school teacher should always be more than just a teacher to their students. Their teacher should be someone who they can turn to, someone they can trust, a teacher should be a friend. But this elementary school teacher from California took this bond to the next level.
Marielle Slagel Keller invited her students to help her make her wedding day perfect. She had twenty kindergarten and first-grade students from her school in Indianapolis walk as her ring bearers and flower girls before her in her wedding. She made sure the kids looked their very best wearing white and carrying garlands. It was so touching, and there wasn't a dry eye in the room!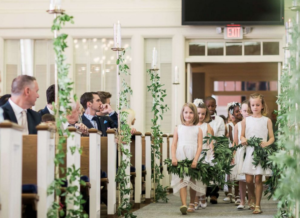 Keller explained that, "they're the kids that mean the most to me. They're a part of who I am." While Marielle was confident in the plan, her husband, Mike Keller, said he wasn't so sure of the idea in the beginning. No doubt there would be risks when involving a large group of children in one of the most important days of your life!
Mike said, "I said, 'This is lovely,' but in the back of my mind, I'm thinking, 'There's a 25 percent chance this will go according to plan,'" he continued, "I thought, 'This is going to be interesting: a herd of 6-year-olds coming down the aisle in this very important moment.'" Mike also said his now-wife "really had a passion for it" on her special day and he's happy the plan came together perfectly.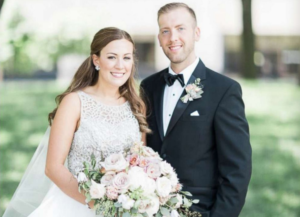 For some of the children, this was their first wedding experience and some even shielded their eyes for the bride and grooms first kiss. They all ran up to hug their teacher after her ceremony and showed their appreciation for her. Some of the students will have Marielle as their teacher again since she teaches both kindergarten and first grade. She will for sure be a teacher they remember for the rest of their lives!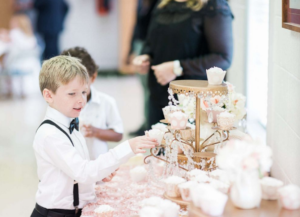 Marielle said, "They supported me throughout this wedding planning process, so it wouldn't have been right to not have them be there the day of." Her now-husband, Mike, said of the children, "You could tell they really love her. They were so excited."
Marielle admitted "there were a lot of tears" as the kids walked down the aisle before her and having them there "was everything" to her. It takes a truly special teacher to have the heart to include her students in such an important day for her and her family. We're happy to see the love between Marielle and her students and we hope their bond grows stronger!
If you thought this was a cute idea, and want to wish this teacher and her new husband the best with their marriage, SHARE this post!
Article via ABC7News