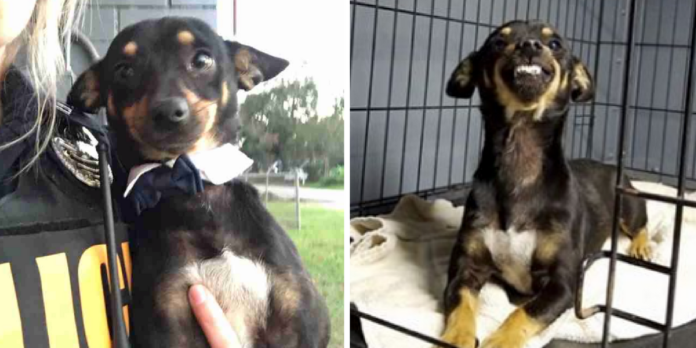 An animal rescue in Texas got quite a bit of attention this week after sharing photos on facebook of an adorable dog that was up for adoption. Cheech a small mixed breed dog was brought into the City of Waller Animal Shelter and Rescue. Immediately they noticed he had something very special about him. Cheech has an adorable smile!
"The smiling scared a couple of the volunteers as they mistook it for snarling, and they were mortified when I stuck my hand in his cage on the day we got him in,"  said Leah Stipe, the director of the Rescue who is also a Waller county police officer.  "He's an awesome little guy." she added.
The rescue posted photos of him showing off his adorable smile in a Facebook post saying,  "Y'all … this smiling dog we got in at the shelter yesterday is ridiculous." Since then the post has gotten almost eight thousand shares. The shelter also received numerous adoption applications to adopt Cheech.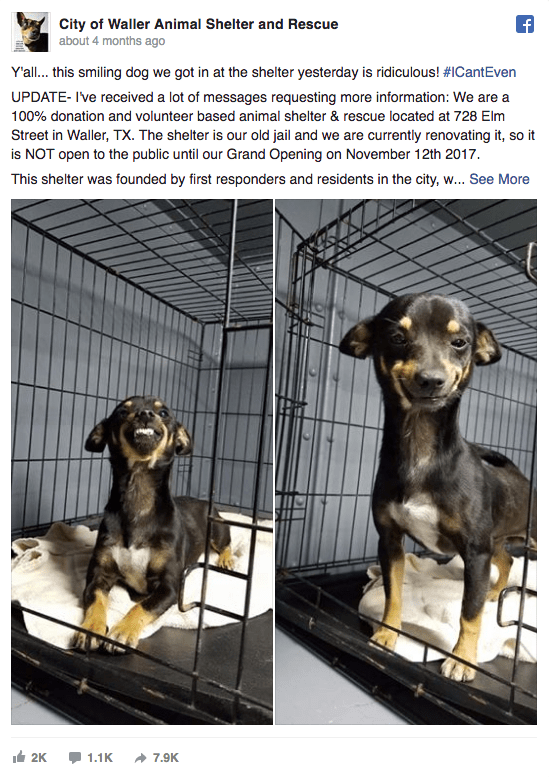 The post brought a lot of attention to the newly established animal shelter. The shelter is located in an old jail and is currently being renovated. The shelter is 100% non profit and volunteer based.  Founded by first responders and residents of Waller County, it will be open to the public November 12th.
After reviewing all of the applications to adopt Cheech, one application in particular stood out most to the shelter.
"I reviewed the applications for Cheech, and one story stood out the most. Carrie reached out to the shelter volunteers and shared her heartbreaking loss with us, she lost her beloved Shepherd to cancer on Friday — since then her other dog (Dusty) pictured here, has been severely depressed and had not eaten in days," the shelter shared in a facebook post.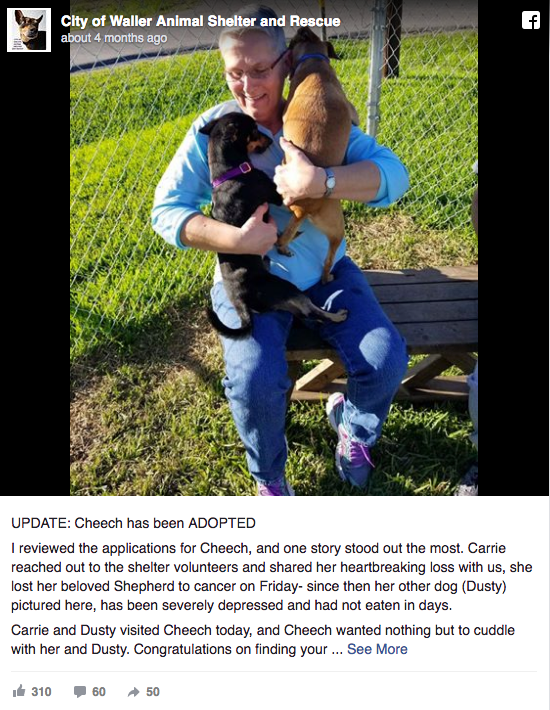 They decided Carrie would be a perfect home for the now famous smiling dog.  "Carrie and Dusty visited Cheech today, and Cheech wanted nothing but to cuddle with her and Dusty. Congratulations on finding your forever home Cheech, we are very happy that you're going to the perfect home. Cheech needs this family as much as they need him."  they added in their facebook post. 

We are so happy that Cheech found a forever home and we hope the best for him and all the other dogs that are up for adoption at the shelter. City of Waller Animal Shelter and Rescue is the first no kill shelter opened in Waller County, Texas.
If Cheech's heartwarming smile has given you a smile too, please SHARE this story to make someone else smile today!
SOURCE: http://kdvr.com