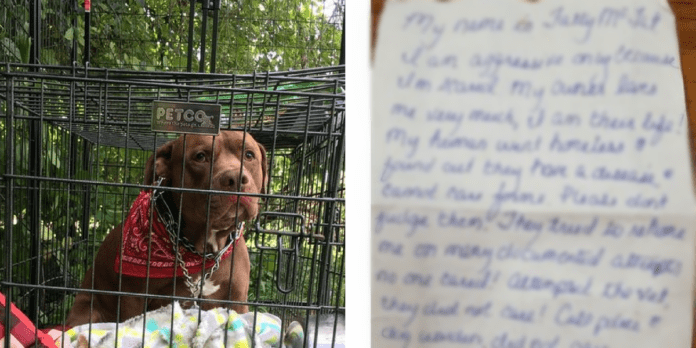 Fatty McFat's owner is unable to take care of him anymore because she was diagnosed with a disease and became homeless.
When this happened, she tried everything she could think of to save her poor baby, but no one seemed to care. Her heart was broken.
She knew that because he had a history of being aggressive and that he was old, it would be very difficult to find him a loving home.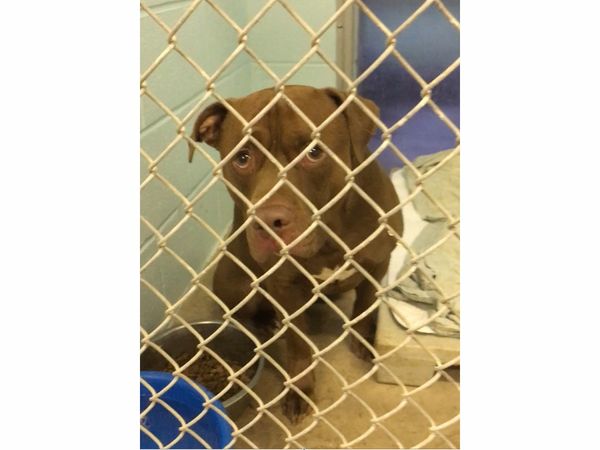 She didn't know what else to do, so she left him in a crate, with a bandana and a note, outside an animal hospital under a tree. She felt like her dog would be safe if she left him there.
The letter says, "My name is Fatty McFat. I am aggressive only because I am scared. My owner loves me very much, I am their life! My human went homeless and found out they have a disease and cannot care for me. Please don't judge them. They tried to regime me on many documented attempts, no one cared! Attempted the vet, they did not care. Called police and dog warden, did not care. I know my human loves me because they are the only one who gave every attempt to save me, love me and pamper me. It is not fair for me to live in a car which I have been for 2 months and my human cries everyday that they are sorry and love me. I am very, very, overly protective of my human and will bite anyone who comes near them or I feel is a threat. My human went homeless due to my biting. All my human wants is for me to have a chance, be treated with care, dignity and love no matter the outcome. My human is heartbroken and very sad it has come to this. No one would help. -Fat McFat"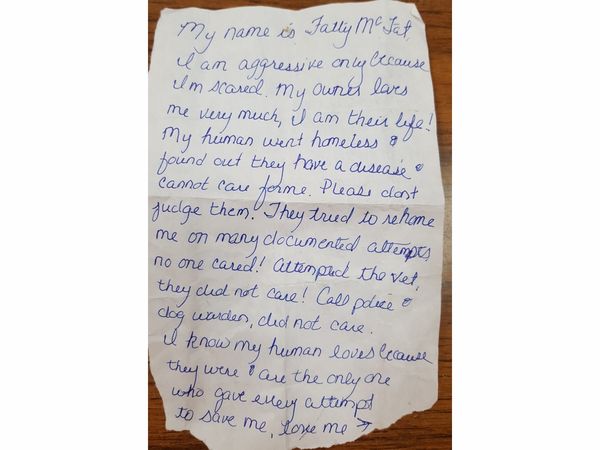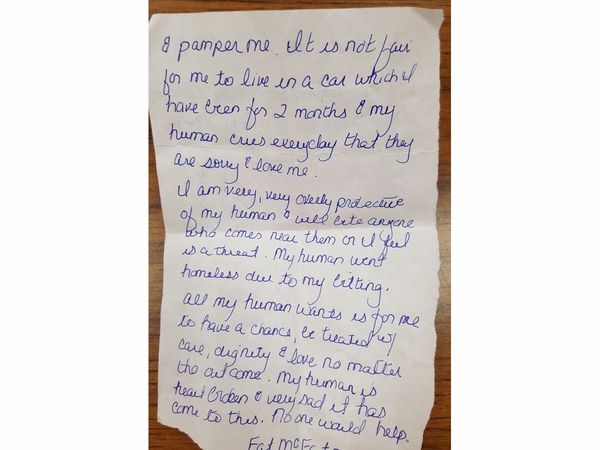 Once the animal hospital was notified about the animal, they took precautions to make sure that he would be alright.
They said this case of an abandoned animal is much different than other cases.
The Simon Foundation stepped in to help the dog and its owner as they are taking him in to give him love and care. They are also helping him to learn behavioral management to help the owner out until she is in a better position to take care of Fatty.
The foundation is doing this free of charge, to help out someone in need.
To support the Simon Foundation, you can donate on their website: http://www.thesimonfoundation.org/
If you're thankful that someone stepped in to help give this dog a chance, please SHARE this article!
via: patch.com and nbcconnecticut.com