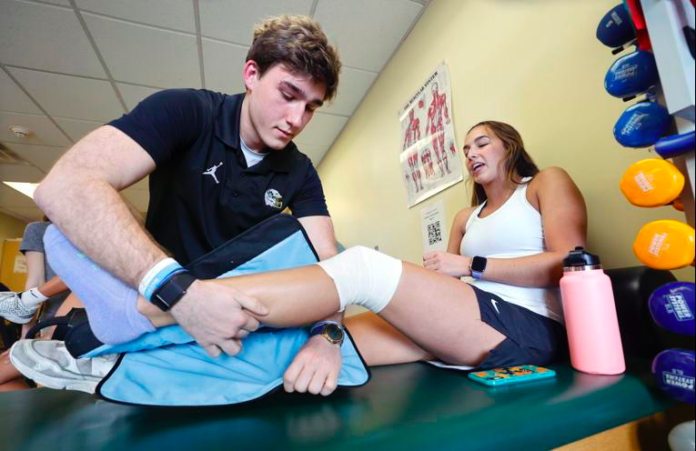 A high school junior joined a volunteer rescue team because he felt compelled to do something during the coronavirus pandemic.
Michael Lansing, now a senior football player and wrestler at Collegiate, didn't become an EMT with Tuckahoe Volunteer Rescue Squad, a lifeguard, peer tutor, Eagle Scout, or assistant at the Sarah Dooley School for Autism because he wanted to win accolades or enhance his résumé.
He did everything he could to help others, as is customary in his family, he claims.
"Being an EMT is bigger than being an EMT. It's really about human connection," said Lansing, the recipient of the Wells Fargo Advisors Humanitarian of the Year award.
"Being in an ambulance and providing for someone in a time of need is really about being human. It's not about providing emergency medical care, it's about connecting with someone and listening to them. And a lot of people just need to be heard."
Lansing's senior season was cut short by a ruptured ACL in Collegiate's fourth game. He was a defensive and offensive tackle for the Cougars. He served more than 700 hours and answered more than 300 911 calls while on duty with the rescue squad he joined in January of 2021, and he was also a standout wrestler throughout high school.
Brian Lansing, his father, is an attorney who previously served in the Navy and now works for the Naval Criminal Investigative Service. Michael spent much of his childhood fantasizing about becoming a lawyer or serving in the military.
But, seemingly by chance, a friend at a Halloween party told Micheal about the class to become an EMT that would happen soon.
Lansing applied, received a callback, went through an interview, and was accepted.
So began a weekly schedule of night classes requiring a 1,500-page textbook and a plethora of medical supplies. Adults with full-time employment found it difficult to keep up with the burden. Lansing, on the other hand, found medical knowledge easier to digest than most high school academics and dropped out in May.
The pandemic was a driving force behind Lansing's decision to pursue a career in medicine at a critical juncture in the field's history. He's witnessed firsthand the burnout and demand.
Lansing has become deeply engrained in the TVRS community, owing to the collective selflessness required to do such work in the midst of a pandemic.
"I value the community at the rescue squad a lot just because of the altruism, everybody there doesn't get paid a dime. You're there on your own time pulling crazy hours. The people who stick around are the people who are really in it because they want to help people," he said.