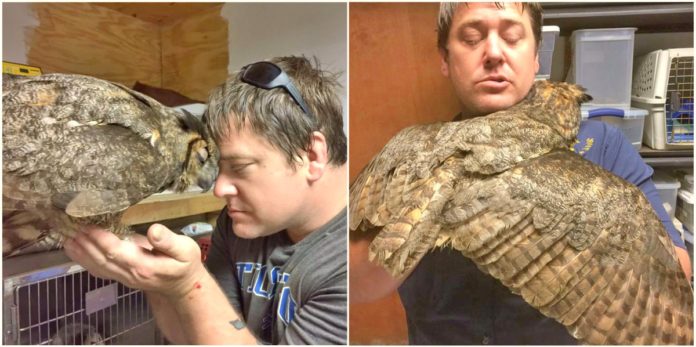 Gigi, a Great Horned Owl, arrived at the Wild at Heart Rescue in Mississippi after crashing into a car and suffering significant head trauma. She sustained a massive concussion and was battling parasites and a fungal infection when veterinarians began to treat her. Miraculously, Gigi survived and recovered well enough to show gratitude to her caretaker with a warm hug that's now getting significant attention on social media.
When Gigi first arrived at the rescue, Missy Dubuisson, director and founder of Wild at Heart Rescue, didn't expect her to survive. She lost a pound of weight during her treatment and recovery. Adult female Great Horned Owls weigh 3.5 pounds on average. "The fact that this bird has lived is beyond comprehension," reported Dubuisson.
With the help of Dubuisson, Doug Pojeky, president of the Wild at Heart Rescue, nursed Gigi to a remarkable recovery. "It literally brings tears to my eyes to watch him interact with these birds," remarked Dubuisson. Pojeky's colleagues refer to him affectionately as "the bird of prey whisperer." Pojeky has a calming effect on birds of prey, according to posts on the rescue's Facebook page.
When Pojeky left town for a few days to attend a family function after months of treating Gigi, the depressed owl moped around the rescue center. When Pojeky finally returned to examine Gigi, she perched on his arm, threw her wings around his chest, and rested her head on his shoulder. The photo of the couple's loving reunion and embrace has since garnered thousands of views on social media.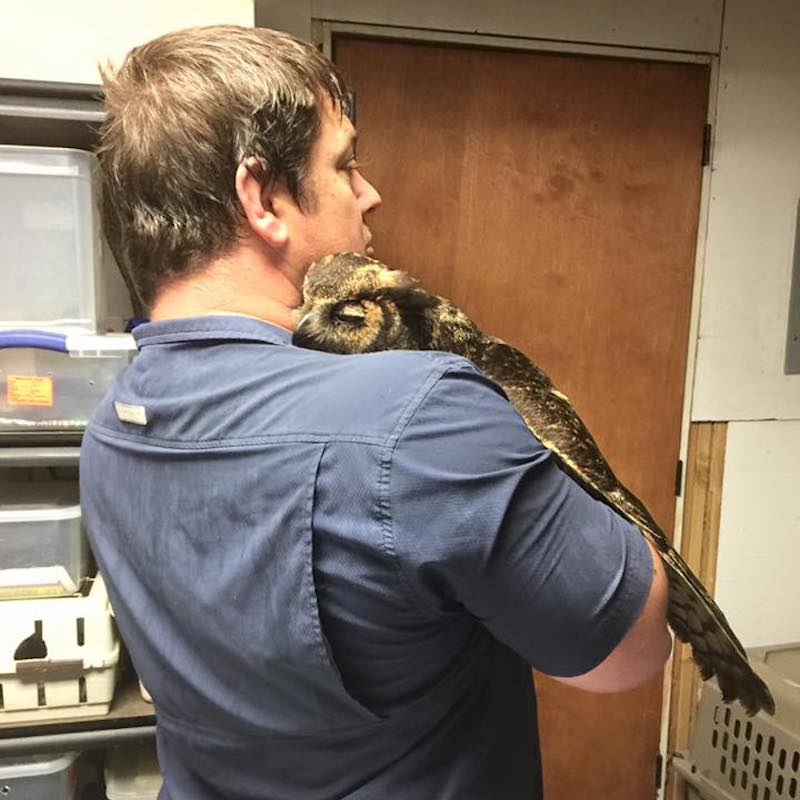 Despite years of working to rehabilitate birds of prey, Pojeky described the hug from Gigi as being like nothing he had experienced before. "Nothing these birds of prey do anymore surprises me," he described on Facebook. "I have learned to accept the fact that it's just going to happen, and to have the camera ready at all times."
For Pojeky, the embrace has special significance. He told The Dodo news service that, as a child growing up, a Great Horned Owl used to perch on top of the family's barn. Although his father frequently saw the owl, the rest of the family rarely did. However, Pojeky spotted the owl overlooking the farm on the morning his father passed away, just before it flew off into the forest.
Thanks to the help of the dedicated staff at Wild at Heart Rescue, Gigi completed her miraculous recovery and has been released back into the wild. According to its website, Wild at Heart Rescue specializes in the rescue, rehabilitation, and release of injured, diseased, or stranded wildlife native to Mississippi. The organization's stated goals include ensuring the safety of all wildlife, providing a safe-haven for injured animals to recover, educating the public, and assisting law enforcement with the same mission.
Hey! Do you think this owl is the sweetest? We do, that's why we brought this story to you! SHARE it with your friends so they may read of Gigi as well! And have a fantastic day!
Article via GoodNewsNetwork and Guideposts