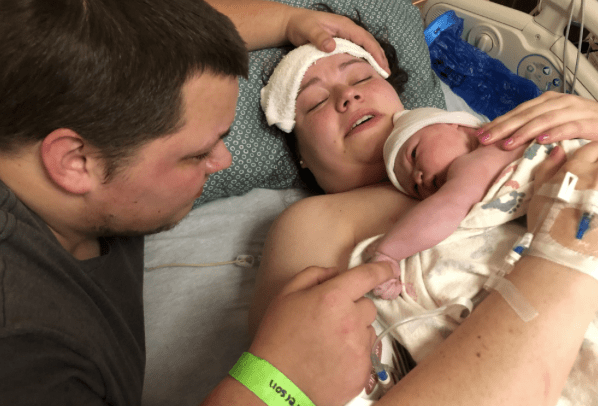 Miracles come in many ways, whether we expect them to come or not. They may come when someone is sick and needs healing, they may come when someone is being saved from something that might hurt them, and it might come when a baby is born. The definition of a miracle as it is in the dictionary states that it is, "a surprising and welcome event that is not explicable by natural or scientific laws and is therefore considered to be the work of a divine agency."
Aberli and Hank Spear, a couple from North Carolina, became first time parents on February 22, 2022. Not only did they have their baby girl on 2/22/22, their baby was born at 2:22 am! She was born at Cone Health Alamance Regional Medical Center in Burlington, North Carolina.
She told Good Morning America, "Everyone in the room, all the nurses were cheering and there's excitement." Everybody was shocked that this could even happen, including The baby girl's parents. Alberli Spear said, "I was like, maybe it's because she's finally born. But then I looked at my husband and I asked him, 'Wait, what time was she born?' And he was like, '2:22.' It was funny because we were in room two, and then find out her weight is 122 ounces. So we're like, 'OK!'"
They named their baby girl Judah Grace Spear. Judah Grace was a miracle because not only was she born at 2:22am on 2/22/22, her parents were told that they would never be able to have a baby. In 2014, Alberli was diagnosed with a type of cancer called Hodgkin's lymphoma.
Alberli stated, "My husband and I had been dating for three months before I was diagnosed … we were told if we got married, wanted to start a family or something, it'd be nearly impossible," she said. "And so we went to the clinic to talk about freezing eggs and stuff, but it's like, it's really expensive and insurance doesn't cover it so we didn't do that either." She had always wanted children and was devastated when the doctors told her she couldn't have any.
Soon she decided the best thing to do was to go through chemotherapy wishing for good things to come. Six years later, in 2020, she found out that she had beaten her cancer. Through her cancer came her daughter's name, which means praise in Hebrew.
Alberli and Hank Spear are super excited about the addition to their family and stated, "This is something that we didn't think that we could achieve. She's definitely a miracle baby."