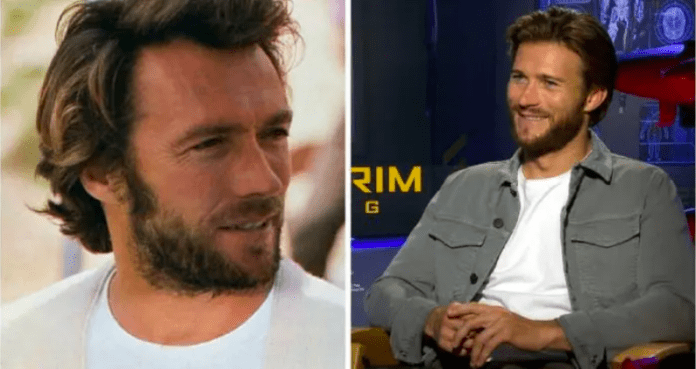 Clint Eastwood has eight children that he had with various women. Most of them followed in his footsteps to pursue acting careers. The most famous child is Clint's youngest son, Scott. Scott used his mother's name, Reeves, to start out acting to prove that he could do it on his own. Now he goes by Scott Eastwood.
At first glance, you can see that he is an Eastwood. He looks a lot like his father when he was younger. Scott has taken many photos over the years that mimic pictures taken of his father in the past. These pictures show exactly how much alike the two look.
View this post on Instagram
You would think that Scott automatically got a role in his father's films, but that is not the case. Scott said that his father makes him audition for every single one of his movies. He has not gotten several parts including the role in "American Sniper."
As a further example of how similar they look, Scott took a picture of himself dressed up like his father was in "The Good, the Bad, and the Ugly."
Clint Eastwood. Su hijo Scott Eastwood. pic.twitter.com/o1xvyixayz

— Lady 70 (@TheLady70s) November 28, 2017
Scott also took some of the most famous pictures of his father and recreated them. They look like twins in some of these pictures.
Even when Scott is not trying to look like his father, they still do!
Like father, like son.

On the left is a photo of Clint Eastwood from a photo shoot in 1976. On the right is his son, Scott Eastwood, during our interview with him last week for @PacificRim.

Are there any other father/son photos that look this similar? pic.twitter.com/Sbz63acjLJ

— BackstageOL (@BackstageOL) March 12, 2018
Clint insists that Scott also auditions for films without the influence of Clint Eastwood. Scott had some successful entries in the film industry such as the action drama "Gran Torino" and "Snowden," in 2016.
Many comic book fans got the chance to see him in "Suicide Squad" as GQ Edwards. He was also seen in the sequel to "Pacific Rim," as he played the pilot Nathan Lambert in "Uprising."
His girlfriend sadly passed away in 2014, something he could only talk about two years later in 2016. Since then there has been nothing heard about him dating. Instead, he is focused on work, resulting in his new Colorado-based beer, Made Here.
This beer is manufactured in America and is meant to celebrate his country in all its glory.
In his latest movie, he is starring alongside the famous actor, Jason Statham, in the film "Wrath of Man."