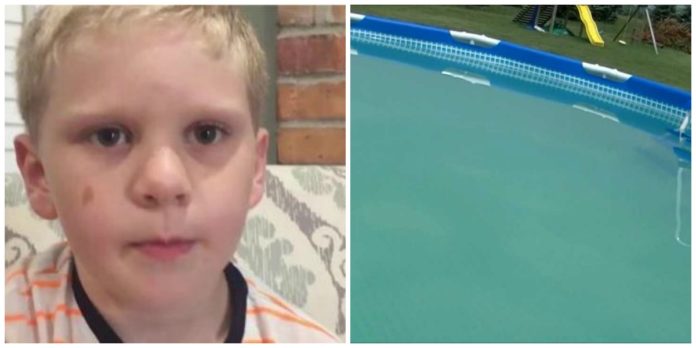 It was supposed to be a special day for these two 2-year-old twins. Kaden and Isaac Kelley were going to church to be dedicated to God in front of family and friends. And so far, everything was going according to plan.
Afterward, the family decided to have the friends and family over to enjoy a nice meal, and then go swimming in their pool.
They ended up swimming all day, and the boys were having a wonderful time with their cousins and friends. They couldn't have been happier.
Later that night, as the party ended, everyone went inside, and it was time to say their goodbyes. Courtney Lee, the boys' aunt, had just said goodbye to the boys, and left to go talk to their mother for a few minutes before leaving.
The boys couldn't have been left alone on the couch watching tv for more than 5 minutes, when devastation occurred.
What the family didn't know, was that the door to get to the pool area, had been left unlocked, and the boys being the little mischievous 2-year-olds that they are, were able to get right outside.
But in that short amount of time, the boys had already gotten into the pool, and were face down. But were found seemingly just in time.
Their cousin, 6-year-old Branson, had just gone outside a few minutes after them. He had seen his own little brother, the same age as the boys, wander outside. He saw him and grabbed him. But when he saw the other boys, face down in the water, he just dove right in.
"My nephew happened to be walking outside because his little brother, who is the same age as my boys, was wandering outside too. He saw his brother and grabbed him, and that is when he saw my babies. And he ran outside and grabbed them and pulled them up out of the pool and started yelling for us," Jeannie Kelley, the twins mother.
The boy had just dove into the water, and did whatever he could to save them. At 6 years old, the boy didn't scream and run to get help. Instead, he acted quickly and took action.
After getting the boys out of the water, he began yelling for help, and even knew to start chest compressions.
"They were completely gone. There was no life left in them. They were blue. They were limp. There was no heartbeat. There was nothing," said Kelley, emotionally recalling that night's events.
That's when Steven Kelley, the twins father, came and started CPR and then called 911.
Seconds passed, and suddenly, Kaden began coughing and breathing. And not just 30 seconds later, Isaac began to regain consciousness as well. Not too long after, they met first responders at the end of their driveway.
But Kaden was then airlifted to Shreveport, soon followed by Isaac. Kaden began to speak in complete sentences while in the helicopter, and was completely fine. And his brother seemed to have the same response.
They both woke up the next morning, and acted like nothing ever happened.
"The next morning, they were just like nothing had ever happened. They were wanting to play, and they pulled their IVs out. They took their oxygen off themselves," said Kelley.
The boys got extremely lucky with their situation. Even the doctors were calling it a miracle. They said that when it comes to near death situations due to drowning, such as this one, they usually see brain death and intubation.
The boys are now at home, and are doing amazing! They are true miracles, and we cannot wait to see what God has in store for them!
If you think angels were watching out for these two cuties, and are thankful that Branson was there to save them, SHARE this post!