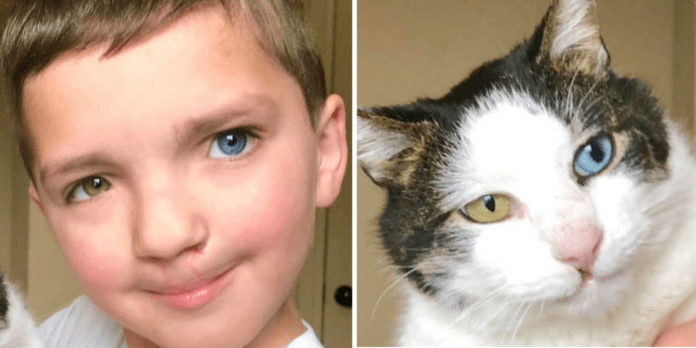 It's rare to come across other people with similar characteristics as yourself, let alone other animals with similar characteristics.
7 year old Madden was born with a cleft lip and also a rare eye condition; along with Madden, a cat from Minnesota was also born with two of the same traits. These two unexpected "twins" finally met each other when Madden's mother heard about the cat.
She explained, "Last week, a friend posted an image of the cat in our cleft moms group. This kitty was taken in by a rescue group in Minnesota. We knew immediately that this kitty was meant to be part of our family. Not only does he have a cleft lip like our 7-year-old son Madden, he also has complete heterochromia iridum, like Madden. They were destined to be best friends. Funny how a pet can make you feel less alone."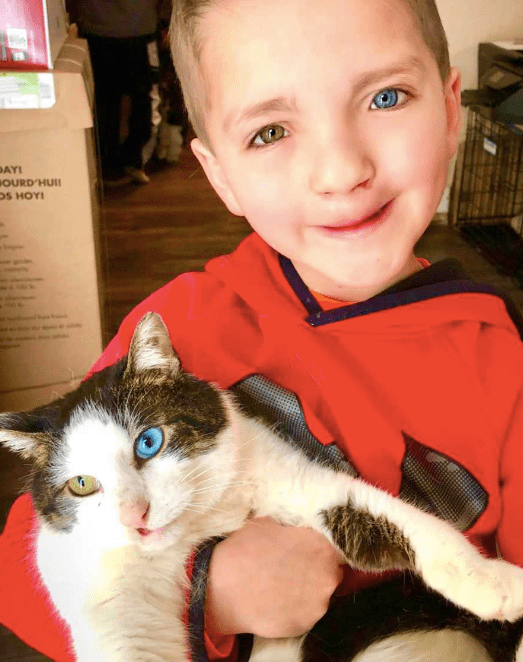 Once the family decided to adopt the cat, they drove from Oklahoma to Minnesota to get Moon, their special kitty. Madden's mom was so thankful for all the support they gained while trying to get Moon. She then says,
"I think it's safe to say that this kitty is love, and was certainly meant to be part of our journey and Madden's journey."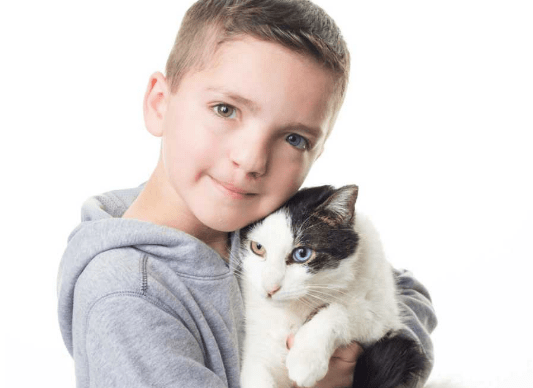 Madden and Moon are two peas in a pod and truly met by fate. Not only did this act of fate inspire others, but it brought awareness to cleft lips and bullying. Madden went on to share his thoughts on bullying, since he has been bullied, in a video the family posted; he says,
"Don't be mean to other people that are different. We've already been through a lot of hard stuff."
Madden's mom hopes that Moon will continue to boost his confidence and lift his spirits. Share this story of fate to support anti-bullying!
Meet Madden.Madden is an Owasso seven year old who was born with a bilateral cleft lip and palate. To date, he has undergone a total of six surgeries, and has many more to go.Madden is usually spunky, outgoing, friendly, kind, and fun! Unfortunately, he had a bully on the school bus this year that started affecting how he felt about himself.When his parents found out, they worked to help change his perception on bullies.Now that he's back to his normal spunky self, he's eager for everyone to know that he's special. He wants to remind the world that being a "poophead" to someone really isn't cool, as he shows you in his video…….Then, if you feel like it, share his message with others.

Posted by Owassoisms on Wednesday, June 7, 2017