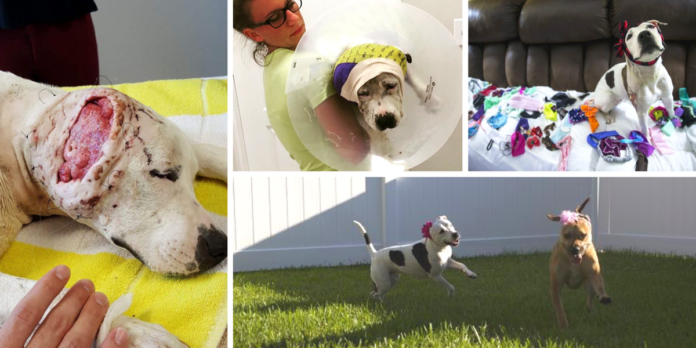 It is very hard to imagine that someone would be okay with hurting a dog. "Man's best friend" is a title given to the amazing creatures for a reason: because they are loyal, loving, and often more than humans deserve.
Watch the video of Abigail's story here! 
Sadly, it still holds true that dogs are abused every day, but this case has a happy ending.
Abigail was found bloody and abandoned to die in the street by some good samaritans who brought her to a Miami shelter. They posted pictures of her on Facebook where Victoria Frazier found them.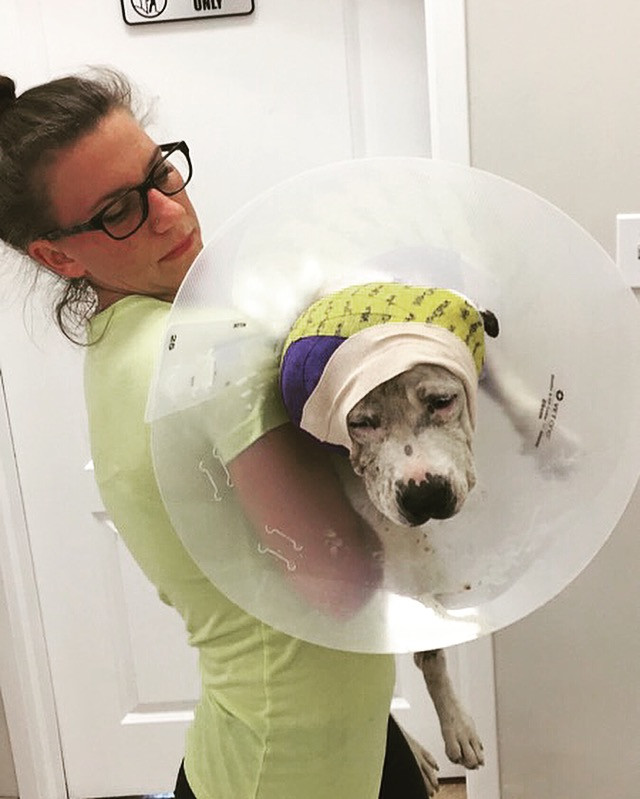 Poor Abigail is thought to have been used as a bait dog in dog fights. This trauma cost her right ear and caused her to need several surgeries and a lot of TLC to nurture her back to health.
Victoria is the owner of Love is Fur Ever, a rescue and foster program she started because of her passion for dogs.
For seven months, Victoria gave her that love and gentle care, putting beautiful bonnets on her head to protect her face while it healed. Every day she wore a new bonnet; each one featured on her Facebook page Bonnets for Abigail.
After several media reports, the internet soon caught on. Hundreds of fans from the U.S., Europe, and other countries sent over 200 hand-made bonnets to Love is Fur Ever. Not only do they send her headbands, but some send other treats and toys as well. She sure is one loved puppy and it's definitely well deserved.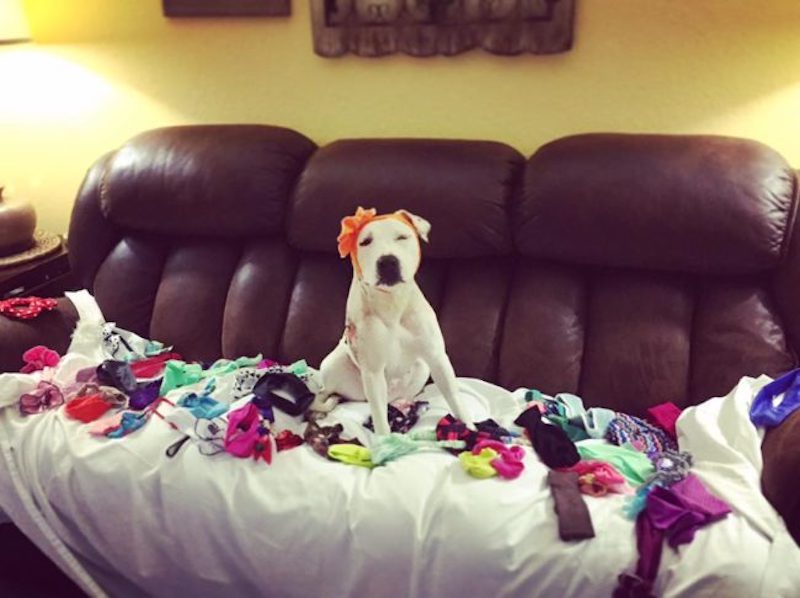 Arthrex, a global medical device manufacturer, has even donated its incredible new "JumpStart" wound dressing product to her veterinarian to help her heal.
Victoria and Abigail grew to have a deep bond over the time they spent together. However, Victoria was about to give birth to twins and could not keep her. She would have to find the perfect home for the amazing dog.
100 applications soon poured in to adopt Abigail. One of which came from Megan Contreras and her husband, Jason. They initially didn't consider putting their names in the running for her because they lived in a rental house.
When they bought a home for themselves, Jason secretly filled out an application to surprise his wife.
They took Abigail in for a week in the spring to see how she would get along with their other adopted lab/pit mix, Tala. The pair fell in love at first sight.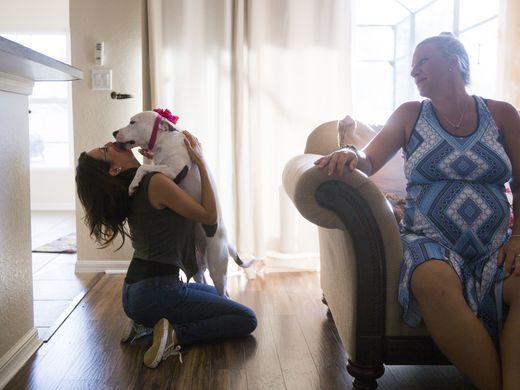 The applications were narrowed down to two families. It took Victoria a little longer than expected to make a decision due to her pregnancy, but she got there. She invited the Contreras family to a local restaurant and told them she wanted to meet one more time before she made a decision.
Little did they know, it was actually a celebration set up by Love is Fur Ever.
They arrived at the restaurant to find Victoria on the back patio where dogs are permitted. There they were met with a hearty greeting from Abigail and a box filled with pink balloons decorated with paw prints and "Happy Adoption Day" written on them.
"I didn't expect to find out in that grand of a way," Megan commented. "I just remember Abigail running toward me."
Though she is excited her friend has a wonderful home, the transition has made Victoria feel a little bittersweet.
"My life was consumed by her. I think the hardest part is I was there every single second of everything. That's probably the hardest thing is changing my whole daily routine," she lamented. "I definitely miss her."
Megan promised to keep Abigail's Facebook page alive and updated as well as keep in touch with Victoria. She feels the separation is not a separation at all, but more of two families coming together as one.
Watch the video of Abigail's story here! 
Isn't this story the best? Despite the horrible beginnings Abigail experienced, she will have an amazing life with her dog-sister and loving parents. SHARE this story if you are excited about her new chapter!
Article via USA Today and thesun.co.uk