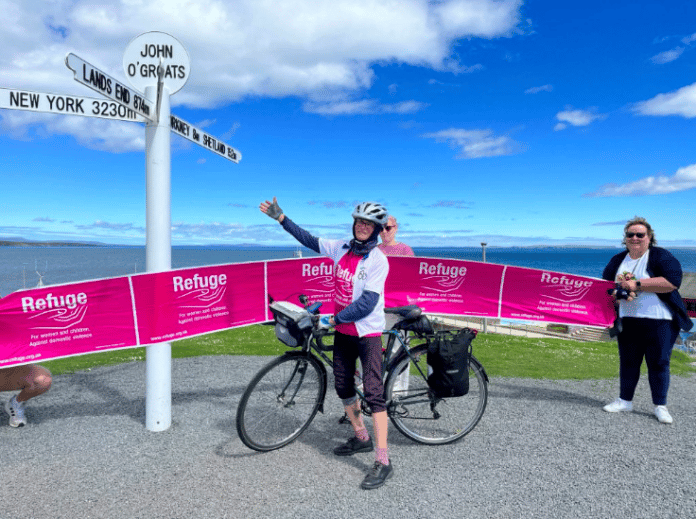 A British grandmother, 82, has beaten the previous record for the oldest person to ride from Land's End to John O'Groats.
When the grandmother of five reached John O'Groats on June 23, she celebrated her amazing voyage with a sizable slice of chocolate cake.
Gina, who turned 82 last April, is now the oldest woman to have ever cycled the whole length of Great Britain.
She pedaled 960 miles in 28 days from Cornwall to Scotland, earning thousands of pounds for organizations that support victims of domestic abuse.
At 81 years old, Mavis Paterson of Dumfries and Galloway, Scotland, held the record for the oldest woman to finish the arduous task.
Gina, a retired photographer, and gardener, only started cycling at the age of 50, but she has already traveled through portions of Europe and the US on her bike.
Laurence Brophy, 87, the oldest person to finish the "end-to-end" challenge in 2019, served as her inspiration.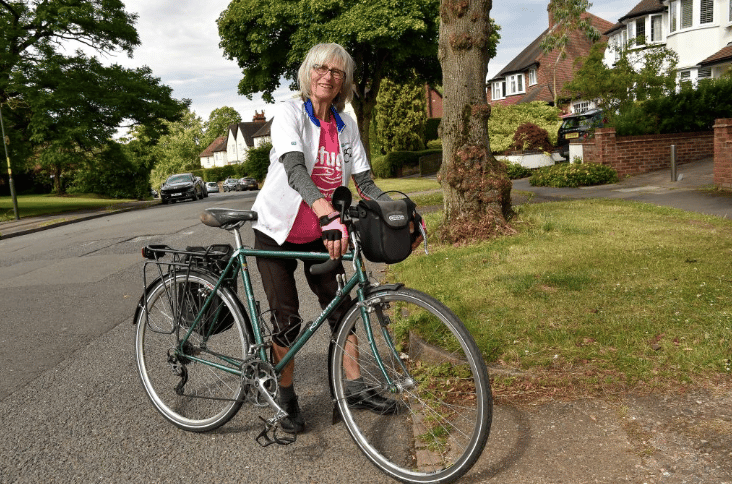 Gina, from Birmingham, said: "I rode my old steel touring bike and carried my luggage which was a combined weight of more than 30kg. It was a lot of hard work but when you get into a rhythm you just keep going. I didn't get off to the best start, however, because I lost a sock on the first leg of the journey but luckily I had spares. It was a short cycle to Penzance but the next day we got lost immediately because it looked like the cycle path was closed. Eventually, we found the route and managed 41 miles going up many steep hills but the weather was wonderful and the lovely Cornish scenery kept us going."
For numerous days of the journey, Gina traveled with her son Pascal, age 47, and she averaged 20 miles per day as she made her way across the nation.
Every day at seven in the morning, the super-fit grandmother headed out and stayed in hotels, youth hostels, and Airbnbs.
Gina, whose husband Tim passed away at age 86 two years ago, continued, A few of the days the rain was pelting down and some of the roads we chose were rough and potholed and a nightmare to ride on. We met other cyclists doing the route to John O'Groats which is thrilling and we all helped each other carry on. Getting to Scotland was a milestone. I enjoyed every moment of the trip and it's quite a thing to think I've broken a world record. We'll have to wait for the record to be verified but hopefully, it'll be official. Unfortunately, my Garmin Sat Nav packed up on day nine and didn't register 15 miles of the journey but I'm hoping it won't matter."
Amazingly, Gina only fell off once near Carlisle when one of her toe-straps snapped, leaving her with a few grazes but no punctures.
Two women's domestic abuse organizations, Women's Aid and Refuge, have received more than $6,000 in donations from Gina, who has two adult children.
Louise Firth, director of fundraising and communications at Refuge said: "People taking on incredible challenges makes such a difference to our work at Refuge, enabling us to reach and support more women and children impacted by domestic abuse."
Faye Connelly, fundraising manager at Women's Aid, said: "We are so grateful to Gina for her incredible support for Women's Aid, and we want to say a huge thank you to her for taking on this extraordinary challenge for the charity."